Originally published at karen j carlisle. You can comment here or there.
While the writing muse had been vacationing with my nemesis, the Black Dog, I got to pottering with artwork for my next series, The Department of Curiosities. (My art muse more immune.) I've finally found the perfect font for the cover – something that says steampunk adventure.

Here is the new Department banner and logo. You'll find it on my webpage and Facebook pages.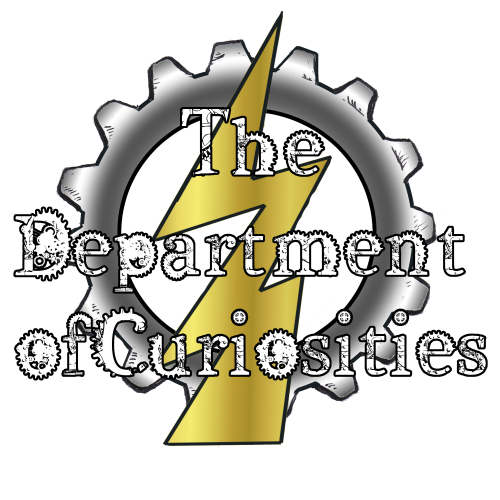 The Department of Curiosities is the second series set in Karen J Carlisle's alternate steampunk world.  DOC is a steampunk tale of adventure, a heroine, mad scientists, traitors and secrets.
All for the good of the Empire.
This series is a lighter set adventures, set in the early 1880s.
Look out for the new bookmarks and book cover reveal…
The first book in The Department of Curiosities is scheduled for release in 2018.
Artwork  ©2015/2017 Karen J Carlisle. Al rights reserved.
Steampunk font was created by Marta van Eck. You can see her work at fontspace.com.
Originally published at karen j carlisle. You can comment here or there.
For weeks our tea reserves have been dwindling. And the closest tea shops, with our preferred blends, was in the city: Kappy's and T2. We try to keep the city jaunts minimal, to reduce our carbon footprint, so we've been waiting until we had appointments in the vicinity.
Finally, the tea ran out!  We had no choice. It was time for a road trip – and some photo opportunities:
On the way: lone leaves and colour-cordinated vehicles.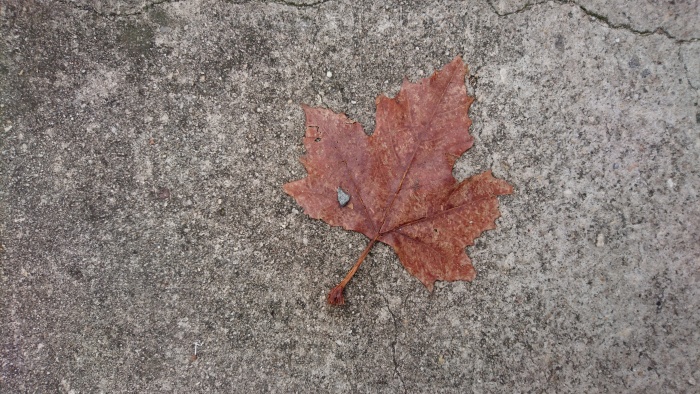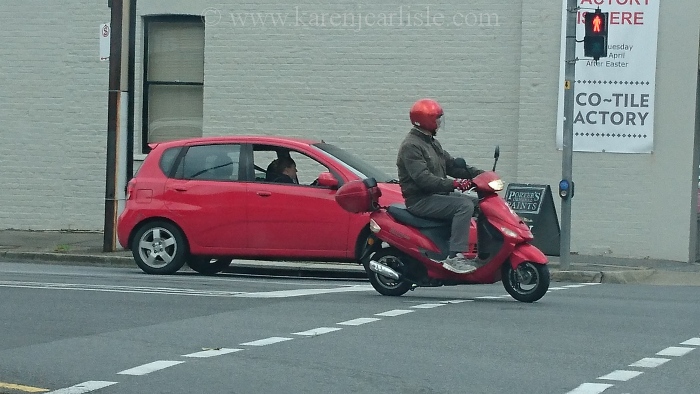 Then to Kappy's on Compton Street, for Prince of Wales and Roman's blend (of Assam and Darjeeling)… but there are so many choices.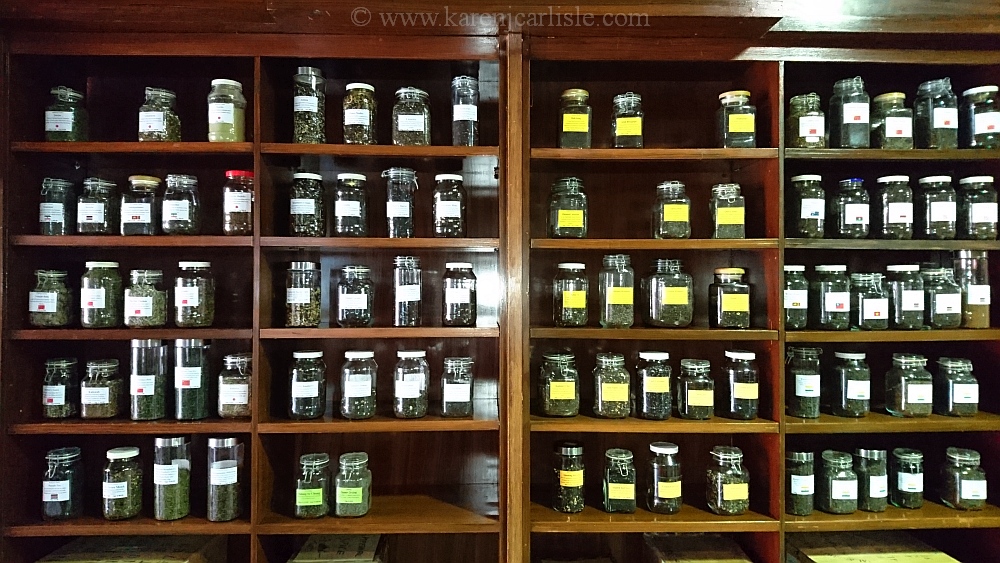 I love their couch…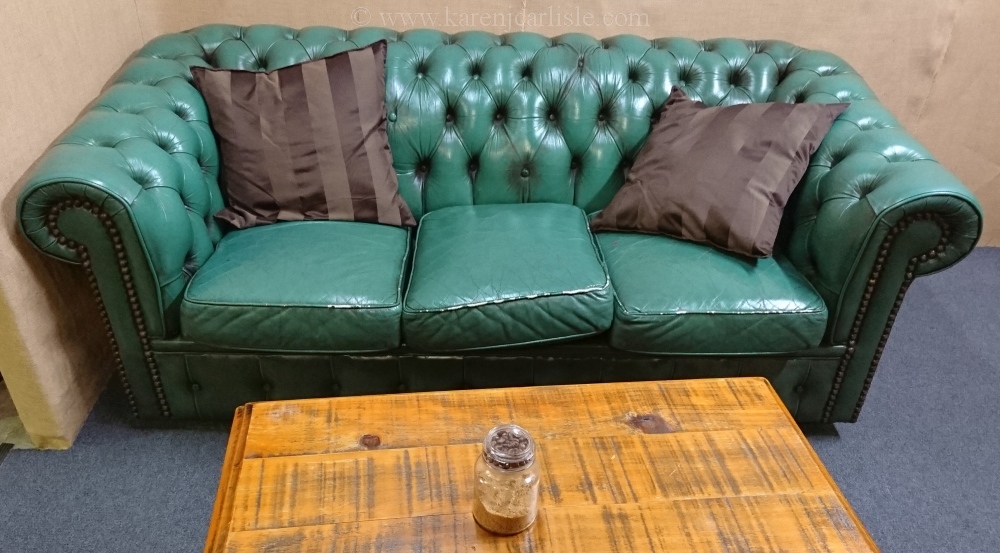 Next, off on a walk to T2 on Rundle Street for some Green Rose tea (and some interesting architecture. This time I concentrated on orginal tiling and paving…)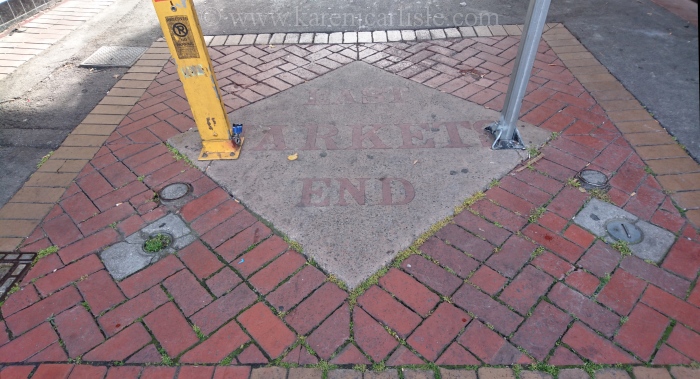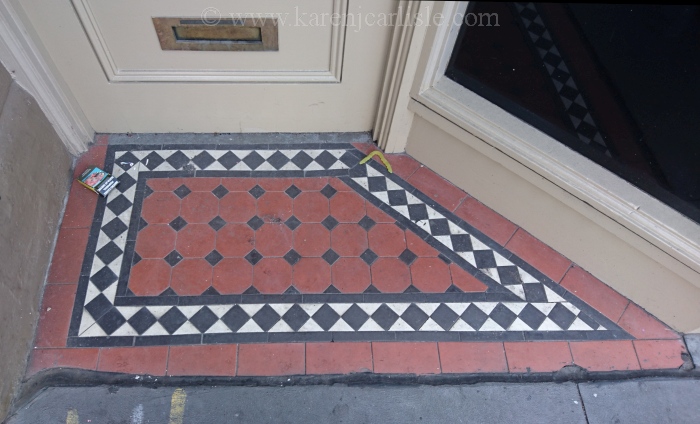 And then… glorious colour!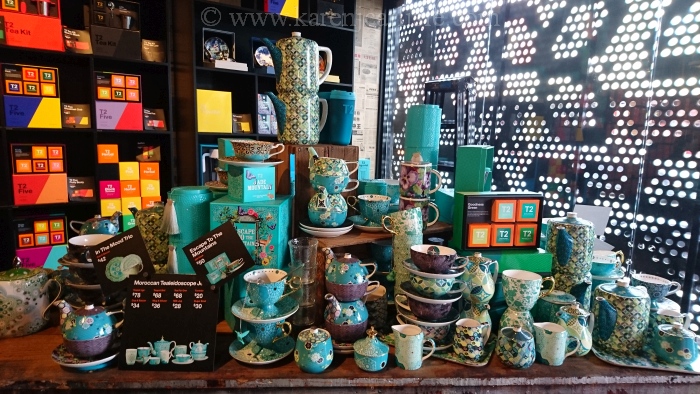 I got excited when I saw this – the new octopus print! Unfortunately it isn't available in a single tea cup set. Sigh. Perhaps next time?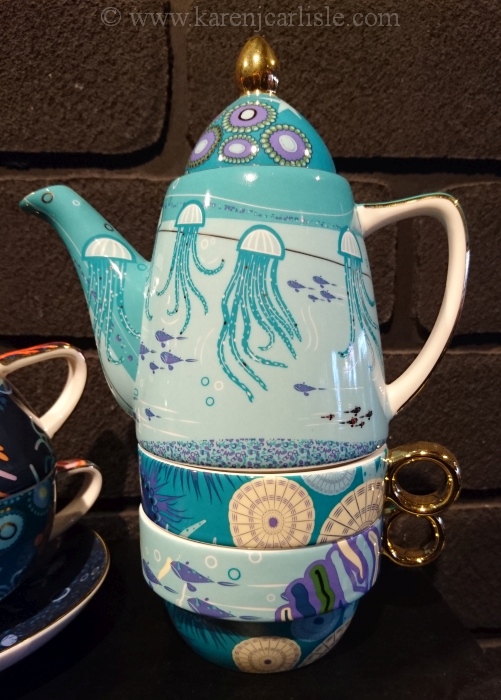 Photos ©2017 Karen Carlisle
Originally published at karen j carlisle. You can comment here or there.
Apologies for today. Migraine. Tech issues. Posting a short story as compensation.
BLOOD MOON RISING
© 2014 Karen J Carlisle.
Somewhere in the moonlight, soft footsteps circled, scraping lightly on stone.
A loud crack echoed through the walled courtyard.  A low growling followed. It ricocheted among the stone pillars and statues that erupted from the flagstones, making it impossible to trace the sound's origin.
A warm summer breeze jostled the branches of Martine's chosen refuge, masking the faint noises around her. Slowly the sky darkened. There were too many shadows.
Summer solstice had slipped by yesterday, without any excitement. She knew it had been too easy.
She looked up to the sky, and studied the moon. Her eyes narrowed, nothing but slits exaggerating the furrow that grew on her forehead.  As the sanguine shadow crept across the moon's surface, blood coursing through its veins.
A blood moon. Change is coming.
Such portents could not be ignored. Again.
Martine took a measured breath. She reached back and pulled a small crossbow from a hidden pocket beneath her bustle. She hesitated, her gaze darted across the courtyard. Shadows danced over the dim garden. She bit her lip and pulled the string tight and eased the silver tipped bolt in place.
The growl was behind her now. Close. The hair on her neck jumped to attention.  She turned, snarling in anger. A large hound leapt toward her, hovering for a moment as the bolt drove into its chest. With a whimper, it fell at her feet.
Shadows flitted in the corner of her eye.
Martine shoved a second bolt into the crossbow. Too late.  It was knocked to the ground by a flurry of darkness. She dodged backwards, landing hard against the stone wall.
Her hunter had found his quarry.  A sliver of tooth jutted onto his lip. He was young, not yet able to control the changes.
Martine wrenched a small branch from the hawthorne beside her. She smiled, baring a perfect set of extended canines. "You should avoid strangers during a blood moon," she whispered.
He glanced at the blood moon above them. A thin sliver of light threatened to chase away the shadow.  He licked his lips and swallowed.
 THE END
Originally published at karen j carlisle. You can comment here or there.
Last weekend I had the pleasure of doing another talk for the local Aus Sci Fi and Fantasy club. Last time I showcased steampunk fashion; this time I spoke about the origins and culture of steampunk.

After wrangling the dreaded technology we were off!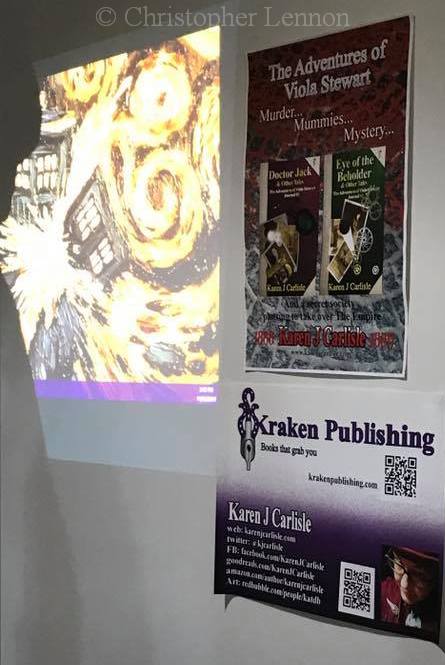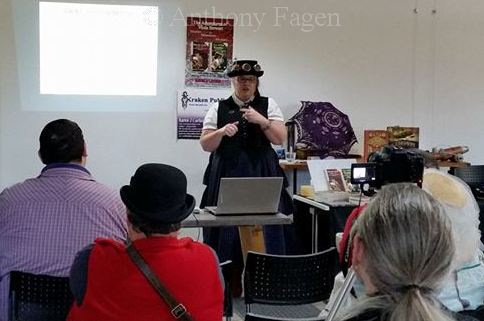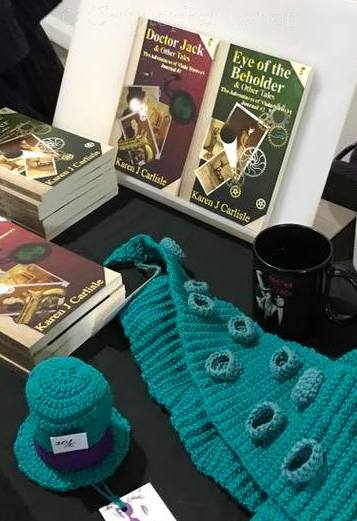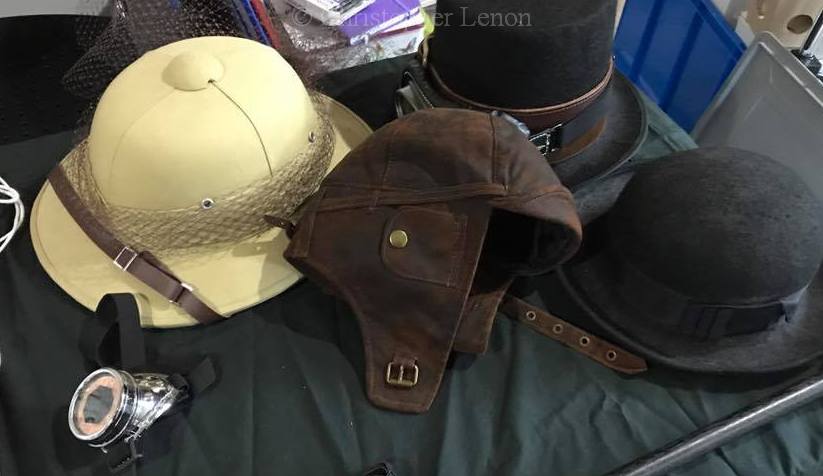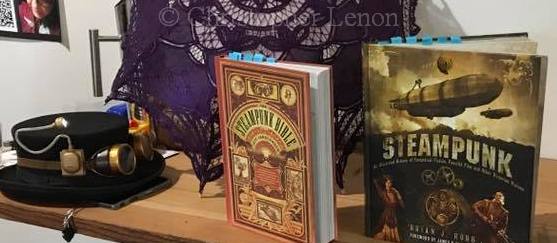 Attendees donned their steampunk finery with Veronica winning best costume (an eBook copy of With a Twist of the Nib).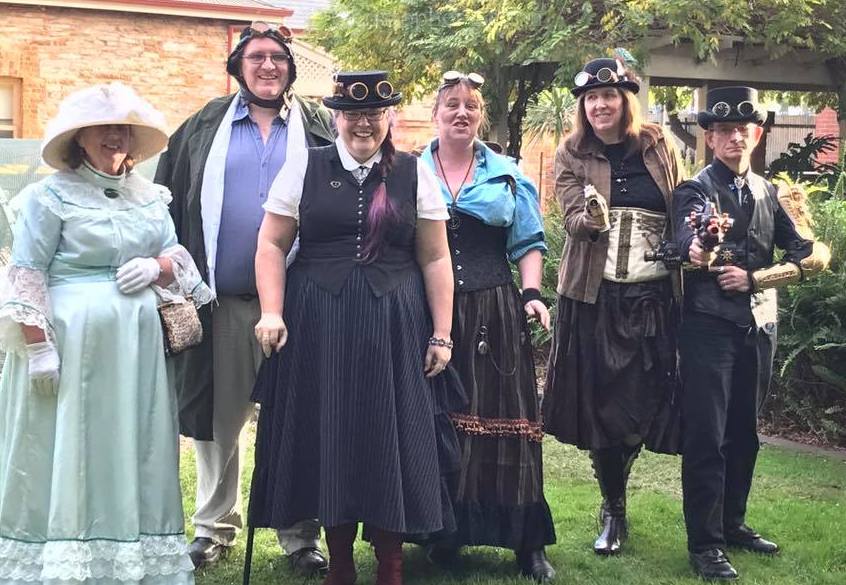 Anthony brought along his awesome gadgets, made from opshop and garage finds.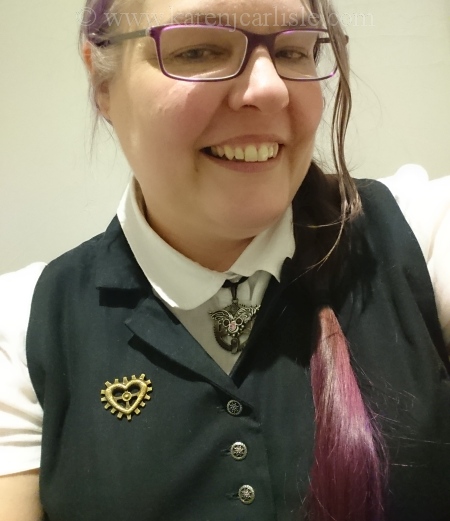 Thanks to the Aus Sci Fi committee for asking me back to talk steampunk (and for the lamingtons and tea.)
You can find a video of my talk on my youTube channel.
Photos ©2017 Karen Carlisle, Anthony Fagan, Christopher Lennon
Originally published at karen j carlisle. You can comment here or there.
I like to have my event schedule sorted out early in the year. This allows for me to schedule my writing around conventions and festivals so I can set a book launch date with plenty of time to allow to finish, edit, format and printing.
This is what this year looked like:
March/Apr- Oz Comic Con Adelaide
August 5-6 – steampunk panel and write your own Discworld story workshop at Nullus Anxietas
August 19-20 – Salisbury Writing Festival
August 27th – ACG Ball
September (mid) – Steampunk Festival
September (late) – Steampunk Pirate Ball
November – Supanova
Though I had lost a couple of months due to ill health, I was still on target for a September launch date, when I hope to launch it at the Steampunk Festival (who were kind enough to host the book launches of both Doctor Jack and Eye of the Beholder) .
I recently got my email for the Steampunk Festival and tendered my application and  started preparing for Salisbury Writing Festival registration…
But, wait…
I grabbed for printouts for Steampunk Festival and flipped through them. Dang! The Steampunk festival has changed dates.  The original Steampunk Festival was held in May, then twice in September, which is why I tentatively scheduled it in for the same time this year.  Big mistake!  It is now scheduled for 19-20 August – the same weekend as the Salisbury Writers Festival.
Decision time!
I enjoy Salisbury Writers' Festival. I've got a lot out of it in the past six years. I meet fellow writers, hear from publishers and agents in panels, on the  state of writing and publishing in Australia. Members of my writing group enter the short story competition. This year I may have convinced some of my fellow writing group to attend the actual festival.
But will I?
The Steampunk Festival is one of my favourite event – costume-wise, meeting readers and fellow steampunks. It is a photographic smorgasbord. This is my tribe.  They understand me.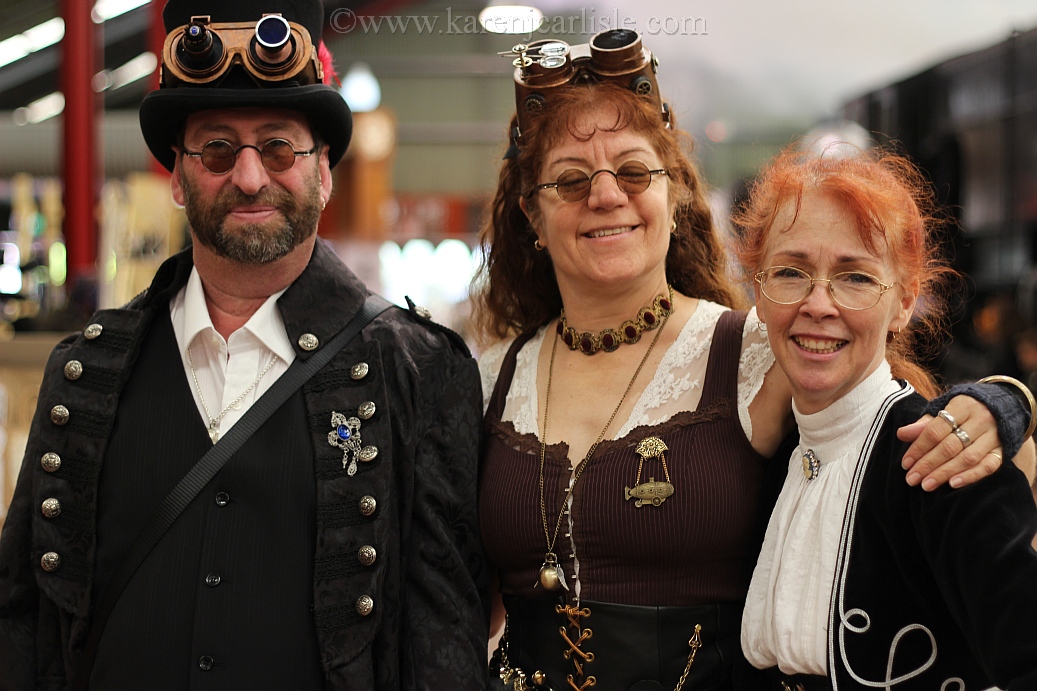 Sales-wise it is my biggest event of the year. I have launched both my books at the Steampunk Festival and hope to again this year. This means I have lost a month of writing time and now have to finish my book earlier to get it out in time for August.
<insert expletives here>
But I've made my decision. It wasn't hard in the end; I go where my readers are. I'll just have to pull up my socks and write faster. I've got a closer deadline now. No time for napping.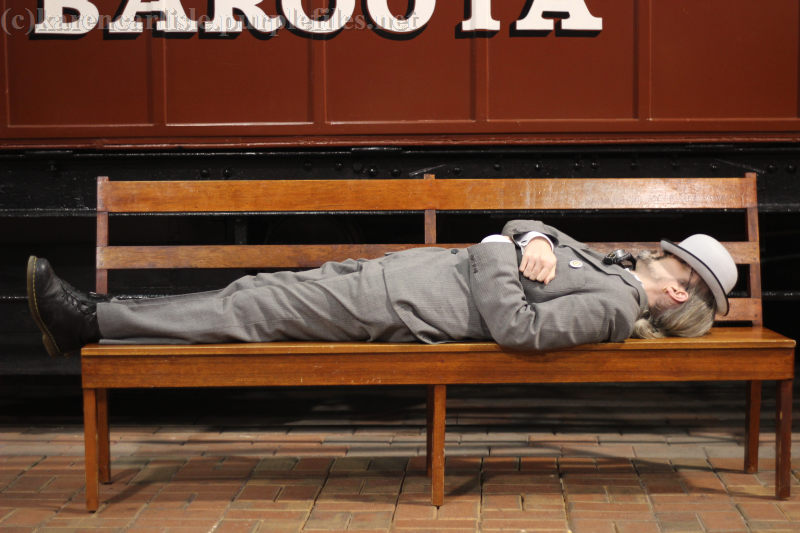 Photos ©2016 Karen Carlisle. All rights reserved.
Originally published at karen j carlisle. You can comment here or there.
I took a trip down memory lane this week: #Whoviansau (ABC2) did a shout out for Doctor Who art. I delved into my fanzine collection and found these covers I had done for Blacklight (Gallifrey Doctor Who Appreciation Society fanzine), circa 1994.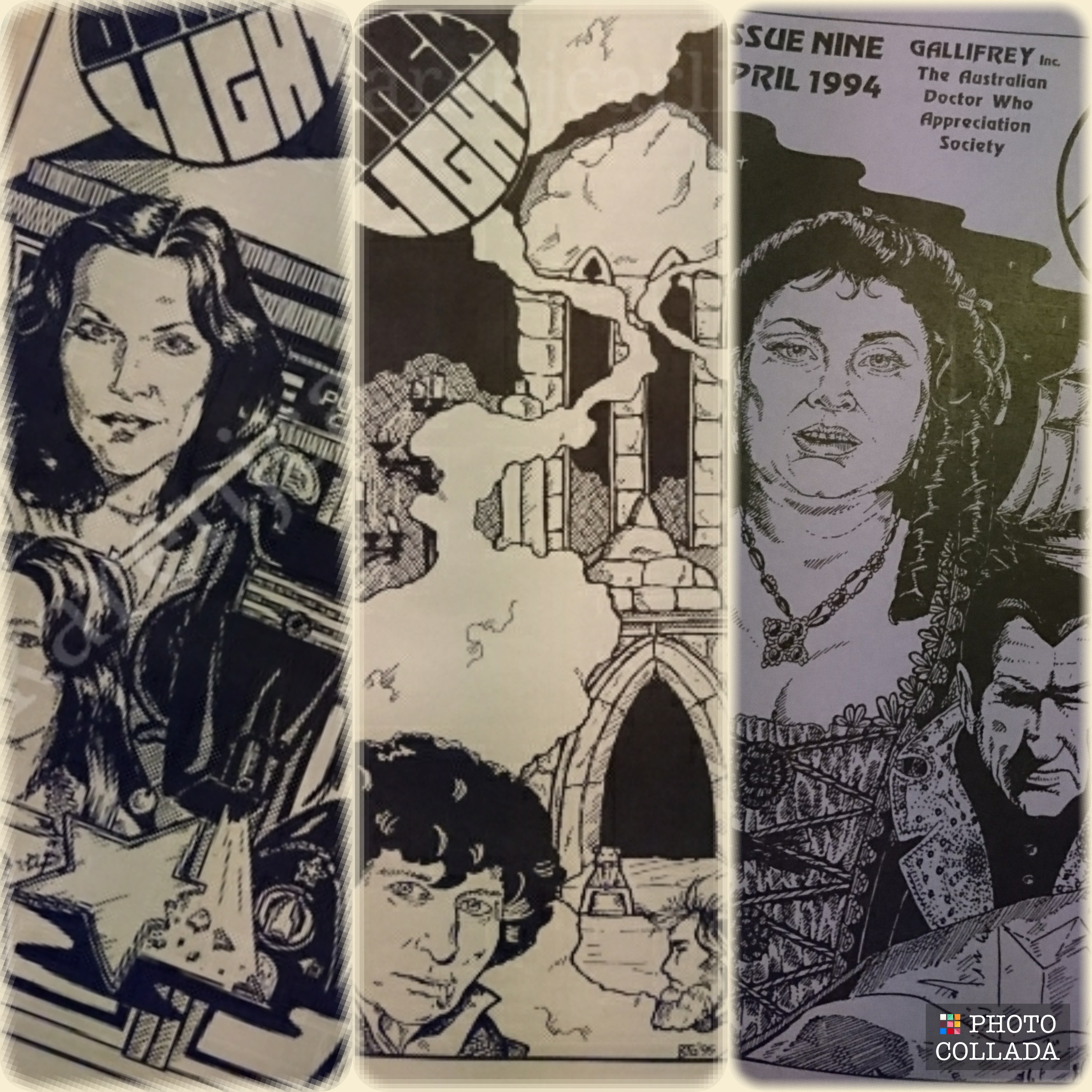 Breathing in all that dust was not a good idea. Hello sinus infection and bronchitis. Ugh. On a more positive note, I found a replacement dress dummy at Salvos (a fraction of the cost of a new one).
I am soldiering on with my writing (more on that in Sunday's post). I have a deadline looming and I can't disappoint you, Dear Reader.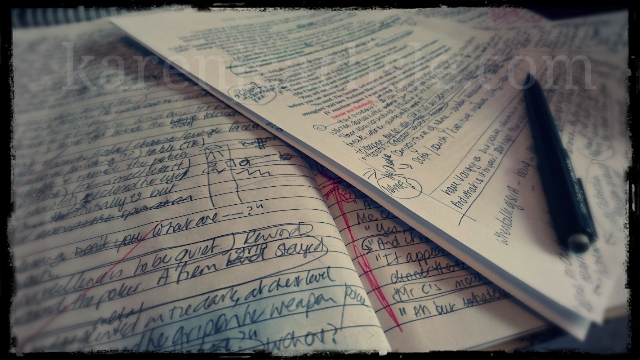 This week I've been wrangling convoluted timelines… Thank goodness for whiteboards.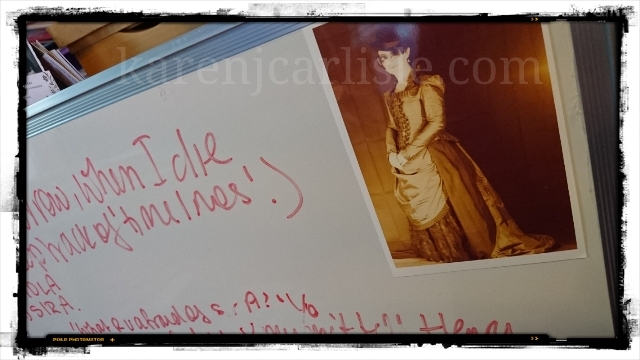 And here's a sneak preview of one of the elements planned for the cover of The Illusionist & Other Tales: Journal #3.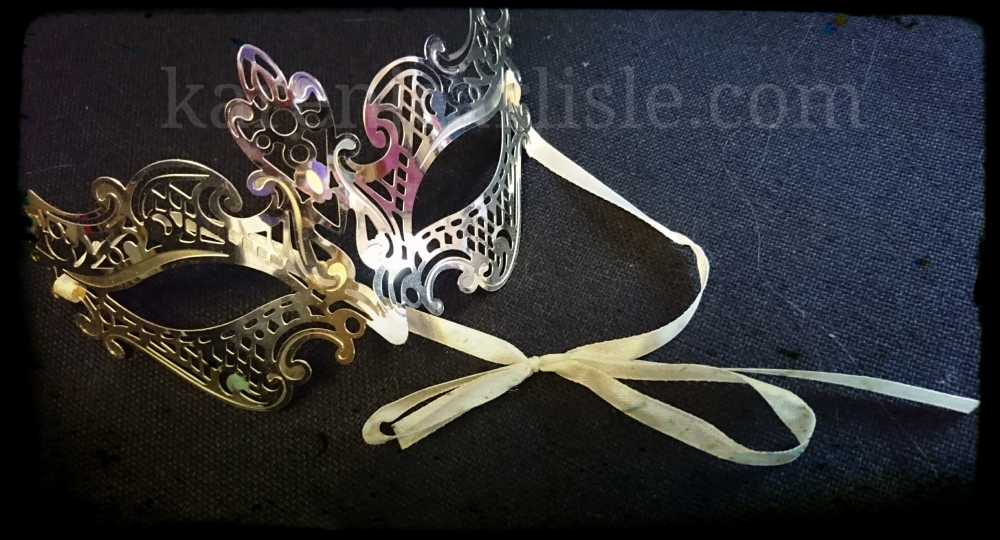 Photos ©2017 Karen Carlisle. All rights reserved.
Originally published at karen j carlisle. You can comment here or there.
Last night the house was full of teenagers (for daughter's significant teenage birthday). They watched movies, played Band Hero, sang and danced. Notes filtered down the hall.
What was that? Bohemian Rhapsody?
I strained to listen… Wake Me Up Before You Go Go. The Final Countdown. Video Killed the Radio Star.
Thirty years – and I could still remember every word. Gad, I felt old.
A chorus of squeals rolled into the room: "Tainted Love!" I raised an eyebrow.
Wait.
I wondered down the hall and peeked into the lounge room full of teens singing away.
What?  Was I stuck in a time warp? I grew up with these songs. I remember when they first hit the charts. I spent hours making tape mixes to play while I did homework.
But why should I be surprised. The eighties had some great music. It was a fun time (before the stock market crash) – high school, university. No mortgage worries. No global warming. My whole life in front of me, to follow my dreams.
The teens laughed and danced and had a ball. I'm glad they'd discovered eighties pop. I'm glad they can experience the same carefree joy I did at that age. They have their whole life to come, to follow their dreams. Global warming, or not.
Let's hope they learn from our mistakes and one day catch a glimpse their children bopping away to retro pop, and are reminded of how grand life can be.
Originally published at karen j carlisle. You can comment here or there.
A few weeks ago I had a fall and damaged my spectacles. Since then, my anxiety levels had been escalating; just contemplating returning to an optometrist was bringing on palpitations. (It had been three years since I had  new specs and my vision had changed – due to avoidance. ) But I defied the Black Dog and collected my new pair yesterday. (Thank you to my Dearheart for providing emotional support.) Huzzah. I can read comfortabley (and breathe) again.
On a happier note: This was delivered this week. We'd found a discrepancy in a pack of pretzels (nothing horrendous, just some cooked dough that had bypassed the production line).  Thank you Smiths for a lovely surprise.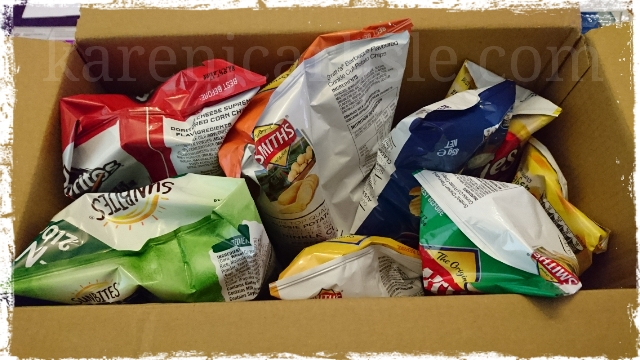 This week's opshop treasures include some Nerf guns and a 'fart blaster' – all destined for steampunking up for future costume projects – and a book on Early Settlers' Household Lore, with hints and recipes from 19th century Australian sources (perfect to add to my research pile for an upcoming writing project.)
I have a new photo app now I have my phone back in one piece – so I've been tinkering.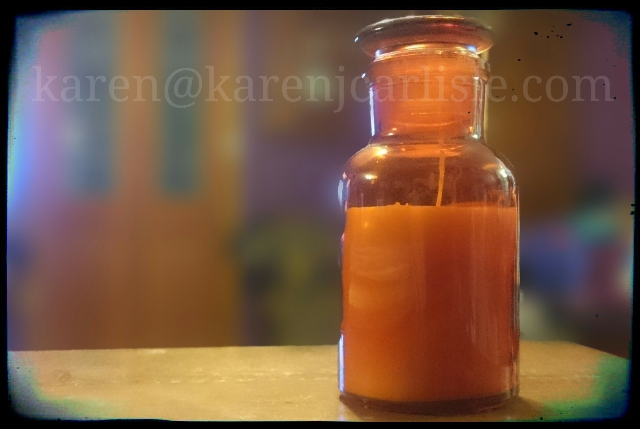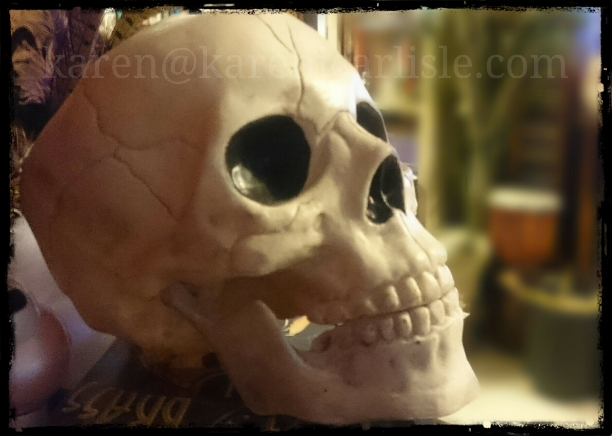 And lastly, I've been making some new signs for future events.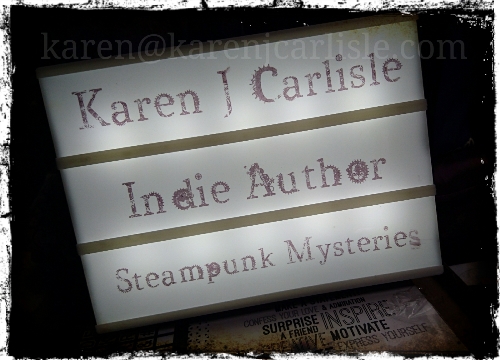 Photos ©2017 Karen Carlisle. All rights reserved.
Originally published at karen j carlisle. You can comment here or there.
I've been struggling this week – well a couple of months really –  trying to keep from drowning in anxiety. News and social media has bombarded us with images of recent horrific events and celebrity deaths. More recently there have been almost-tragedies closer to home. My mind has been chattering away, creating worst-case scenarios, second guessing, panicking me into petrified inactivity.
One of my triggers is empathy. I find myself crying (I mean really bawling my eyes out) over news stories – a lost child (their parents must be worried), a car crash (and the devastation of those left behind), a terrorist attack (how could someone hate others so much). The pain manifests itself as palpitations, muscular spasms, migraines… The list goes on.
It's one of the reasons I had to quit my old career. I'd come home and worry . I'd worry about my patients, worry about missing things, worry about dealing with the company powers-that-be. I've tried cognitive therapy, relaxation, mindfulness and hypnotherapy. (I reacted badly to meds.) But it is difficult to turn off the reason why I started that career and the very thing that spurred me to stay in the job, years longer than I should have.
Writing helps. I can channel that empathy. How do my characters feel? What will they do? What was the thinking behind that? But sometimes it gets all too much. Even the writing freezes up.
Then I retreat into books and get lost in their pages. But even that escape has been thwarted recently. When I was ill I tripped, damaging my spectacles. As a result, reading is a chore and brings on migraines. (Have you tried reading with askew progressive lenses? argh!)
So it's plan B for now. I have a list of vaguely-writing-related movies – some inspiring, some just a bit of fun. Some are, well, dubious but, nevertheless, contribute to pulling me out of my funk. Yesterday I pried open my current WIP box and picked up a pencil.
I thought I'd share my current list with you:
Anonymous
A man for all seasons
Eat, Pray, Love
Ghostwriter
Confessions of a Shopaholic
Bright Star
Cinderella Pact
The Devil Wears Prada
Inkheart
Julie and Julia
Authors Anonymous
Music and Lyrics
Shakespeare in Love
The Rewrite
Becoming Jane
Miss Potter
Under the Tuscan Sun
Bridget Jones Diary
Never Been Kissed
Little Women
Love Actually
Paperback Hero
Sliding Doors
So I Married An Axe Murderer
Sleepless in Seattle
Romancing the Stone series
Magic Beyond Words: The JK Rowling Story
So now you know one of my deep, dark secrets. Please don't judge me.
Originally published at karen j carlisle. You can comment here or there.
My server is undertaking maintenance today, so my webpage may be screwy for a few hours. Apologies.