Originally published at karen j carlisle. You can comment here or there.
Tea & Tidings newsletter out 20th January (Aust time).
Want news?
Want sneak peeks?
Sign up today. Don't miss out. http://karenjcarlisle.com/sign-up-email-list/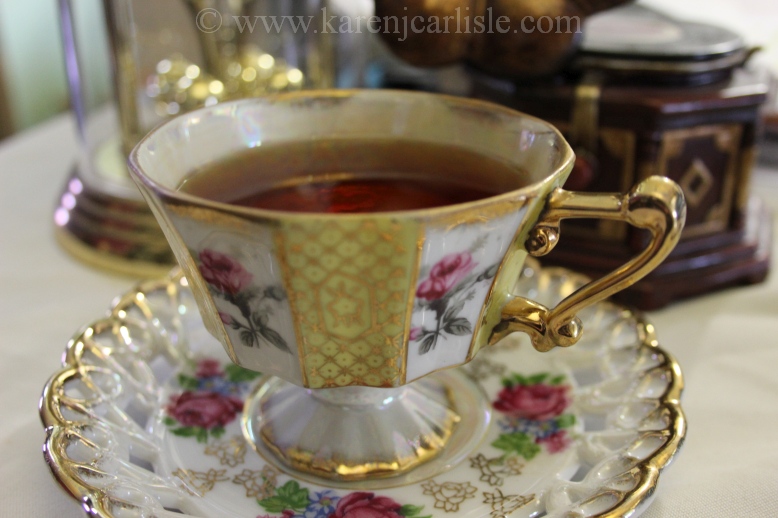 Originally published at karen j carlisle. You can comment here or there.
The first two weeks of 2017 has flown by. I paced the house during the mini heatwave (I survived), not able to focus my thoughts into words on paper. I spied the costume cupboard doors, groaning under the weight of decades of an ever-growing collection of projects. It was the perfect analogy for my cluttered brain, suffocated by its own clutter, crying out to be free.
And decided it was time…
Time to cull the dreaded costume cupboard.
Once the doors were wrenched open, it was clear how much stuff I've collected over the years. Costumes and historic garb packed so tightly that, even though some hangers had failed, the outfits had not fallen, having been wedged in place for eternity.
Oh dear.
I enlisted the help of my Dearheart (without back and shoulder issues) to help wangle long neglected pieces from their tomb. First the SCA (Society for Creative Anachronism) garb. There were at least five gowns I hadn't worn for over twenty years (and a couple of sizes ago). They would never fit again. They were the first to go.
A few hours later there was a pile of items – too good to throw out. Just the material and buttons were worth saving. So began the great costume sale of 2017. I posted the items for sale and, to my surprise, most had been spoken for within a few hours.
I've now sold these outfits (I feel like part of me has been ripped away. The process has effected me more than I had predicted; I haven't seen some of these outfits for over a decade – in some cases, almost two – yet there was angst over parting with some of them. The hardest to let go of were outfits I made for our daughter. Each held many memories.
But that's the point in clearing out the cobwebs – out with the old, as they say. I can't enjoy the new memories, if I don't first clear my head and reconcile the past.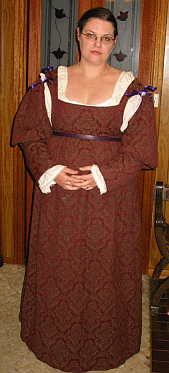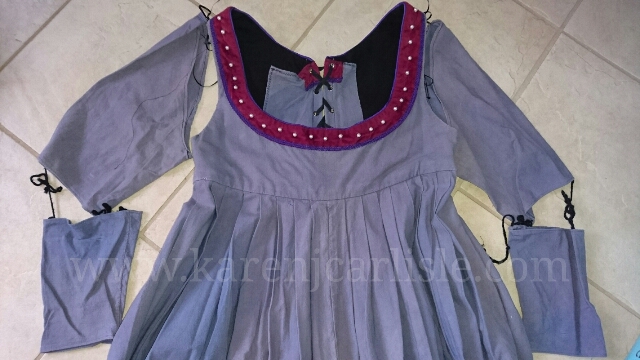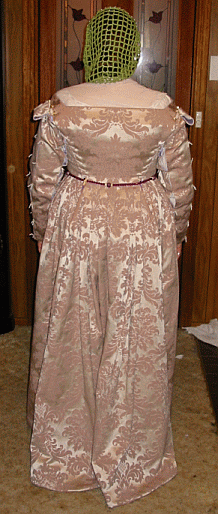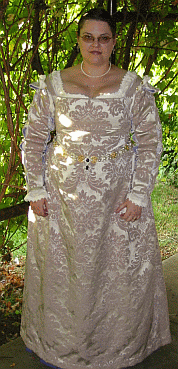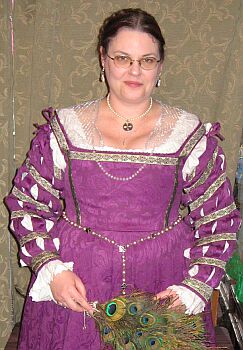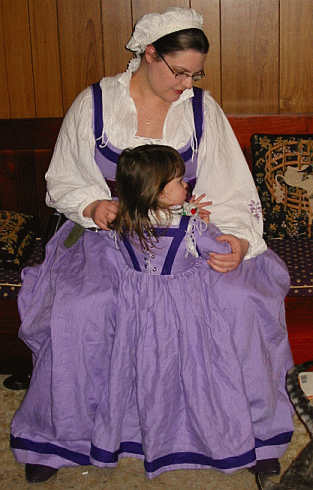 (You can find out more about my costuming at my Florence Files/ Purple Files webpages)
Next we vacuumed and compressed the remaining outfits into storage bags (oh my, they work!) We've now clered over a third of the costume cupboard hanging space and a quarter of the cupboard top storage free (to fill up again, no doubt. Well, steampunk outfits do take up a lot of space). All of the remaining SCA garb now fits in one trunk – the contents of the cupboard and previous inhabitants of said trunk. Woot!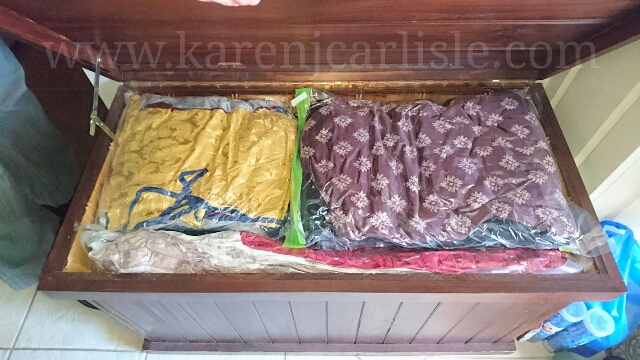 Coats are now organised together in the cupboard. Steampunk outfits nudge each other. Long items at one end. I've folded up the under linens to store together; no more scrummaging around drawers and cupboards and coat bags to find the appropriate petticoat or corset. Six corsets to be exact: four Victorian ones (one under the bust), one 17th century and one 16th century (not counting my Bellatrix leather 'under the bust' corset).
Oh, organised bliss. Oh, what will I do with myself?
And look how many hangers we have left over! It looks like my brain has felt for the past few years.
I really need a cup of tea (and a ton of dark chocolate) after this week. It's been exhausting – both physically and mentally. But it was worth it. All that clutter gone – and not just from the cupboards. It's been cathartic.
And thank you to everyone who purchased my beloved costumes. You've helped me more than you know. I'm off to do some research on the best way to dip my foot into marketing my books and perhaps some giveaways.
Onwards and upwards!
Photos ©2016 Karen J Carlisle/ D. Carlisle
All Rights Reserved.
Originally published at karen j carlisle. You can comment here or there.
Another busy week:
Tuesday – off to a talk on 3D printing with my friend, Terry. Oh, so many potential projects I have planned… Huzzah for libraries!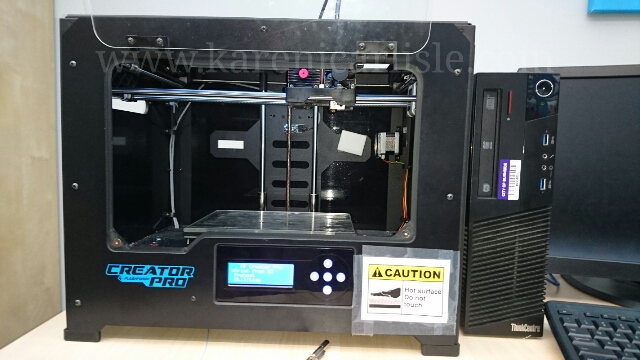 Wednesday: Off on a cafe and bookshop crawl with fellow writing group members. We had brunch, tea and chocolate at Koko Black, then adjourned the air conditioned comfort of Dymocks.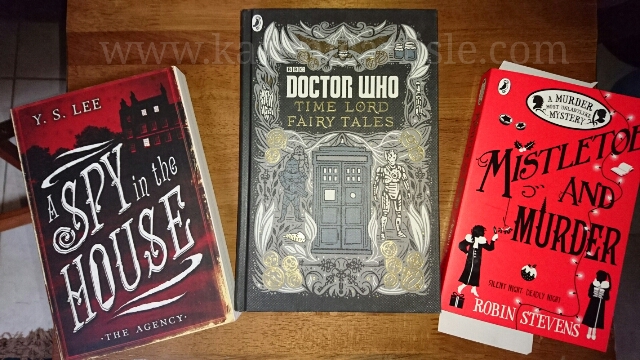 Last stop was the pen shop, where I finally found a purple fountain pen (and purchased obligatory purple ink). I signed my first webpage shop order with my new pen and posted it off (waves to Courtney – hello!)
Then off to see Maona, with the family, at the gorgeous Art Deco Capri where an organist greets the audience. And popped into Kappy's Tea and Coffee Shop on the way home. Roman's blend is of Assam and Darjeeling, specially formulated for a friend of ours to replace his favourite brew when another tea house closed down.
Thursday: Rolling up D&D characters for a new campaign.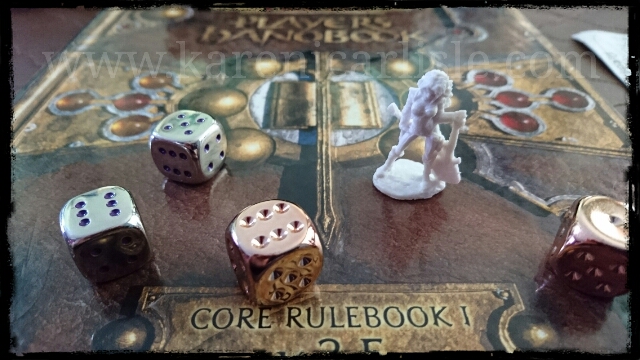 Photos ©2016 Karen J Carlisle All Rights Reserved.
Originally published at karen j carlisle. You can comment here or there.
It's been a scorcher of a week. Over thirty-five earlier in the week, and over forty degrees Celcius two days running with minimum of a sticky thirty-three overnight. We've shut all the internal doors and holed up in the lounge and dining room, huddled under the air conditioner (and feeling a bit like we're trapped in a MARS module).
Have I mentioned I don't like summer?
Then the internet and Foxtel died, first on Wednesday, then again on Friday, only to reappear on Saturday afternoon.
What to do?
I caught up on some culling of my costume cupboard and made a new skirt for my new 'work wardrobe' and rolled up a new D&D character.
I found some funky octopus material in the cupboard (I've already used the map material for a blouse) – only two metres but I managed to eek out a longish skirt by narrowing skirt panels and shortening the length to fit the pattern onto the available material.
I had some thread in my thread box – perfect match. I cheated and used some (leftover) bias binding to finish the hem (and get back 3cm of length).
Add a blouse and a wide belt or cinch corset and I'm ready for another book signing!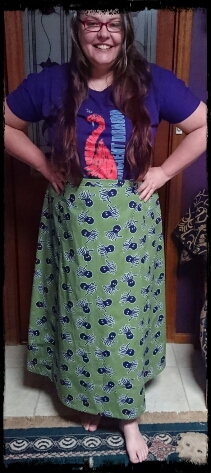 I've packed away the sewing machine for now (it's just too hot to do anything). It truly needs a service. I don't think I will be able to make a planned blouse before the tension is rectified.
Photos ©2016 Karen J Carlisle
All Rights Reserved.
Originally published at karen j carlisle. You can comment here or there.
Inspired by the recent film, we went in search of amazing beasts at the South Australian Museum's recent exhibition: Curious Beasts. The exhibit bookends British Museum Animal prints – woodcuts and engravings from the 1400s through to the 1800s – neatly with specimen exhibits from the SA Museum. Art meets science – perfect!
And more amazing beasts lie within the museum walls.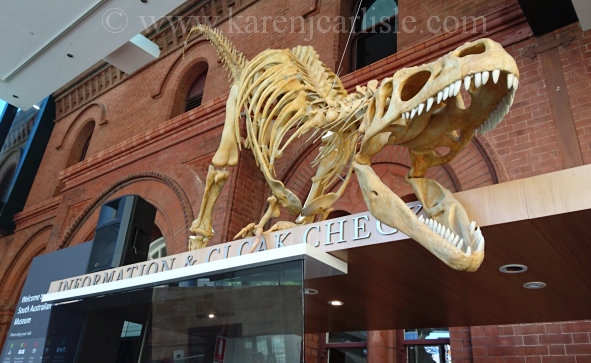 From the sea…
From indigenous art… and treasures formed in our past (the largest opalised fossil)
and joined us for lunch.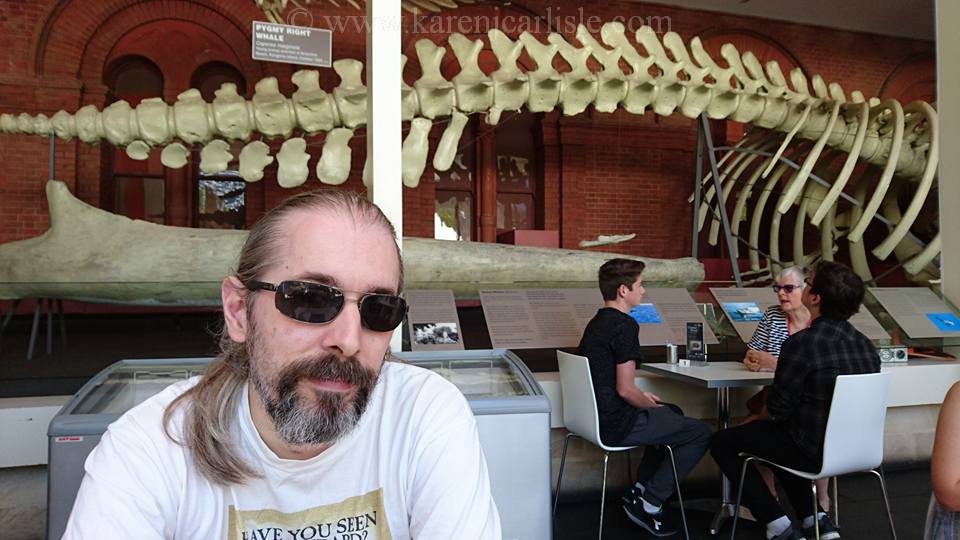 Curious Beasts exhibition ends the first week of February.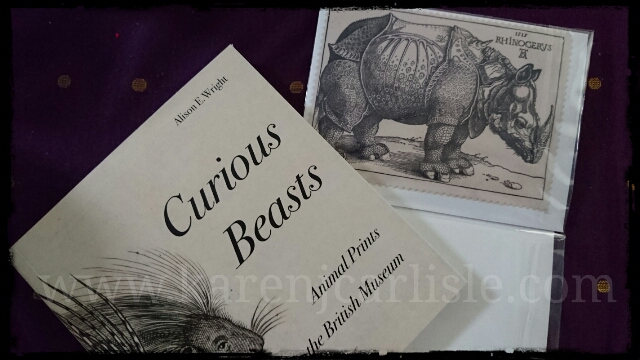 Photos:©2016 Karen J Carlisle
All Rights Reserved.
Originally published at karen j carlisle. You can comment here or there.
It's a new year, prompting the obligatory new year post.
It's official. 2016 sucked. Its carnage weighs heavy on my soul – the almost-monthly announcements of cultural icons who have influenced my life: David Bowie and Alan Rickman from cancer, Prince, Mahammud Ali, Jon English, and the shocking accidental death of newcomer Anton Yelchin who played one of my favourite Star Trek characters. Next to go was Kenny Baker(R2D2), Gene Wilder (comedian), Leonard Cohen (poet), Robert Vaughn (Man from UNCLE), Florence Henderson (Mrs Brady), Ron Glass (Book from Firefly), Andrew Sachs (Manuel), Zsa Zsa Gabor and Rick Parfitt (Status Quo).
What more could 2016 throw at us?
Then came the news: Carrie Fisher – a symbol of strength as Princess Leia, the rebel fighter, and Ms Fisher, advocate for mental illness who fought to bring it out of the shadows – was rushed to hospital following a heart attack.
I held my breath.
While the world tweeted its outrage at 2016 for being a right, proper bastard, 2016 thumbed its nose, proved itself to be an utter, proper bastard and took George Michael and writer Richard Adams then, in defiance, finally claimed Carrie Fisher. Debbie Reynolds followed her beloved daughter into the moonlight the very next day.
I suppose I could be rational. I am getting older. My heroes are aging as well. David Bowie could not live forever (though his music will keep him alive in my heart). But that's not how it feels. It feels personal. That is why I need to grieve. And I'm not alone. That is why we all need to grieve. It is why we feel the need to anthropomorphise 2016, making it the focus of our grief – particularly the anger phase. Why? Why must we grow old? Why must we die?
Because, that is life – a roller coaster of emotions which makes us human.
And now 2016 is gone (and good riddance!), we can look at it with a clearer perspective. The media and social media concentrated on the negative – including a hoax report of Queen Elizabeth's death – but there were also many positive stories.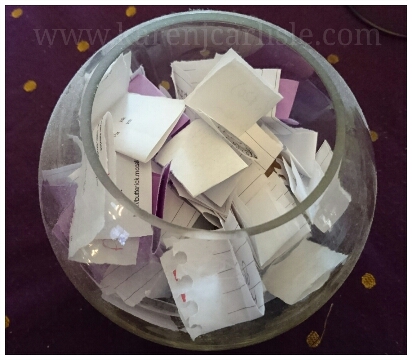 My personal list of positives comes from my thankful jar (write a note when something positive happens. Put it in a jar or bowl and read the notes at the end of the year, to remind us of the good things we may have forgotten). This is the third year I have done this. Here's just a few:
I had a couple of my photographs used for the FB banner of my Art Photographers group.
watched a Forever Knight mini-marathon with my friend, Anne.
Anne left a secret note in my thankful jar: 'Amazing hair, Karen has it!'
I was featured in three guest blogs this year and four interviews this year
launched my second, self-published book
my daughter shared her amazing artwork with me
Margaret Atwood liked one of my environmental tweets!
I received notification of my first sales to a US bookshop via my distributor
I created two new t-shirts from my Inktober original artwork
A cool southerly breeze, feeling great after two heatwaves
I got new dice and a purple octopus dice bag for my birthday
sold out of books at the Steampunk Festival book launch
back garden clean up completed
Dearheart hugged me.
and 'going through 2015 thankful jar. Wow, so many good memories'.
Now 2017 has arrived.
We stand on the brink of new possibilities, a chance for renewal, a chance to concentrate on creating positives for ourselves, to create our own self-fulfilling prophesies. To create hope.
That is why I make my New Year List. I don't like to call them resolutions. Too many people make new year resolutions. Too many of them fall by the wayside. I make a list of things to strive for and resolve to make this year a better one:
try to cope with my anxiety more effectively
writing more (it helps calm the black dog)
attend more book-related events
set up a website shop (jumped the gun on that one.)
eat more healthily (and not listen to the siren call of potato chips)
finish the third book in Viola's adventures
finish the first book in my next series, The Department of Curiosities
spend more time with my family
add memories to my 2017 thankful jar.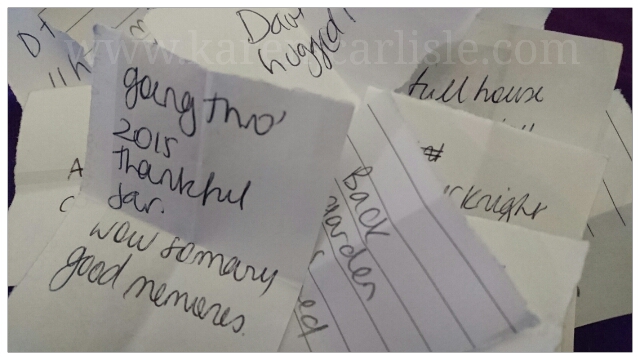 Welcome to 2017. Let's make some good memories.
Photos:©2016 Karen J Carlisle All Rights Reserved.
Originally published at karen j carlisle. You can comment here or there.
Food: Christmas dinner, leftovers and homemade shortbread (thanks, Cheryl).
Fun: The whole family is on holidays, with chances to play board games, a bonus D&D night and movie marathons.
The new Labyrinth game I got for Christmas…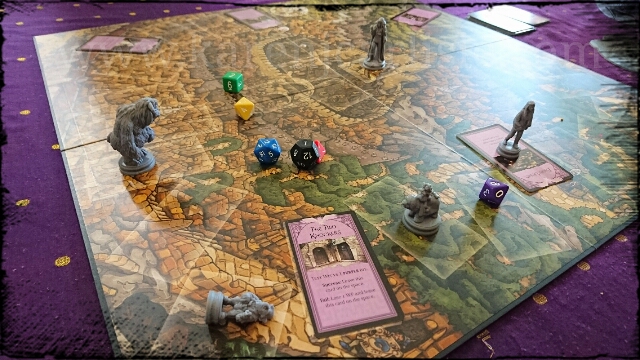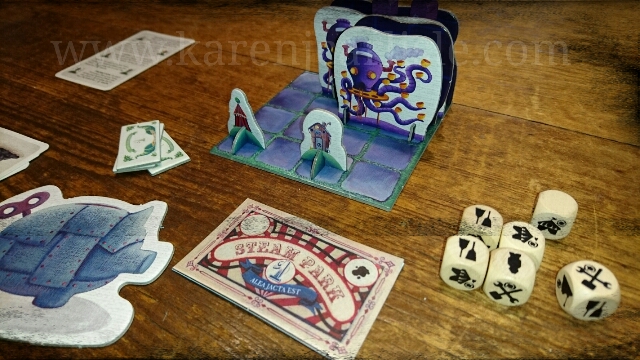 Not so fun: Recent storms brought downed trees and temporary power cuts through Adelaide. Luckily we are on the edge of the storm corridor and had only minor branch droppage from the gumtrees out front.
But the biggest news for the week is my new book shop. My industrious flying monkeys have been braving the aether to secure a little plot for my next step in my indie author journey.  That's right, you can now buy books and merchandise direct from my webpage!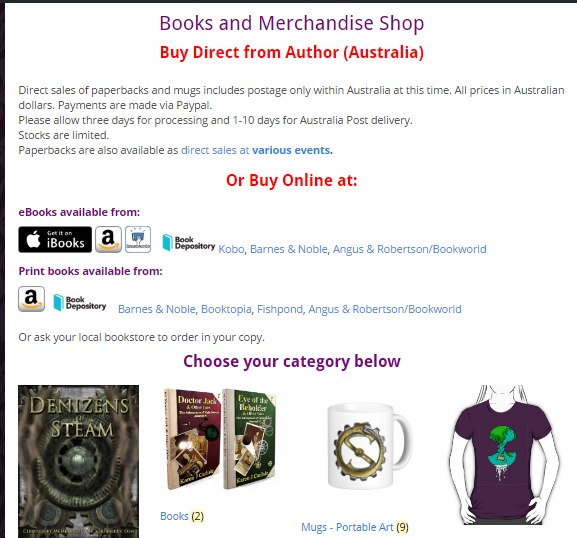 Here you can buy direct from me and have your books or mugs posted within Australia, or find out where to buy my books and artwork overseas.
Thank you, dear Reader, for your support over the past twelve months. May you have a safe new year. See you in 2017.
Photos:©2016 Karen J Carlisle
All Rights Reserved.
Originally published at karen j carlisle. You can comment here or there.
Merry Christmas dear Reader.
Today is a family day for me; a day for sharing, eating special treats and spending family time together. My friends and family know me – chocolate, books (I now have the full Simon R Green series of Blue Moon books), games and geeky things.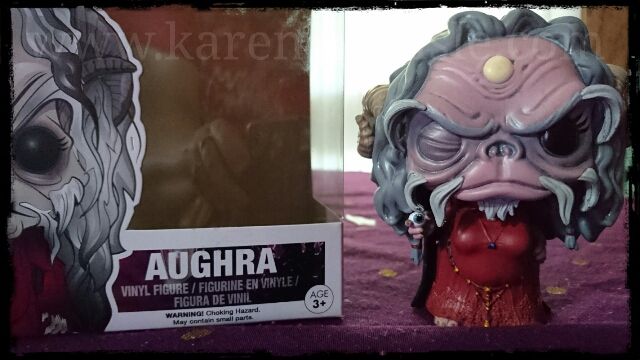 After a lunch of special treats,

it was time for a cup of tea and Haighs' chocolate …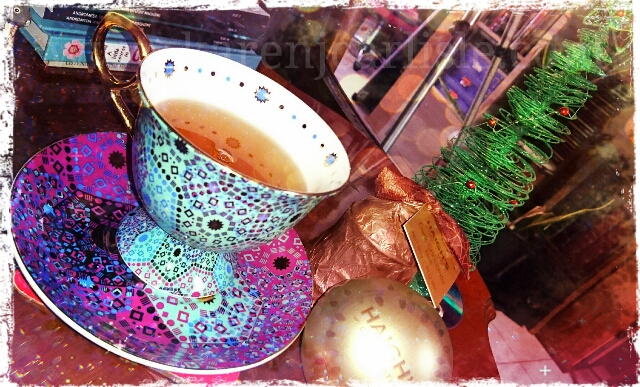 … and a little light reading and watching Christmas movies (including Hogfather).
It was a pleasure to relax after Christmas Eve, spent gathering up the last of our Christmas supplies, avoiding frustrated Christmas shoppers (capturing a few geeky finds at the local Salvos- for under $15 total!) and watching a Doctor Who Christmas special marathon.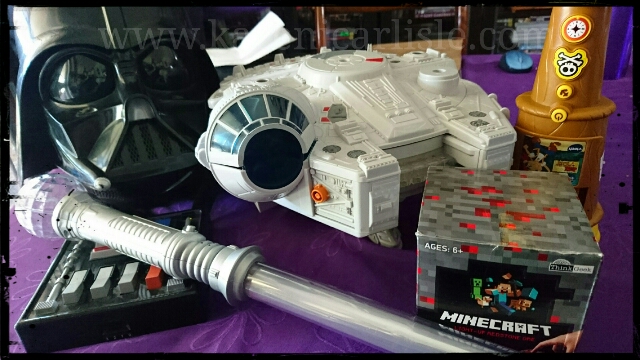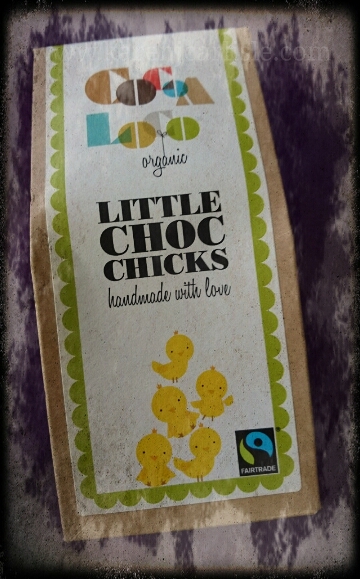 I was reminded, by the Tenth Doctor, of the two words the Doctor can't refuse: "Help me." (The Next Doctor, Season 4.5)
Christmas is many things – family, gift giving, spectacular feasts. For me, Christmas is also a reminder on how we should treat others – you know, 'Good will' and all that.
This year, we shopped at Oxfam online for our presents, giving donations towards a goat and chickens for families in Mozambique, honey bees in New Guinea, empowering young people and fighting climate change in the Pacific. We have so much. We can share.
Merry Christmas to you all.
Revel in your family. Share good tidings of the season. Share the love. But, look beyond the one day. Think beyond yourself, beyond your family. Reconsider that barbed tweet or that spiteful post and share something kind instead.
Go forth and be excellent to each other.
Originally published at karen j carlisle. You can comment here or there.
This week I've swapped Photo Friday for a blog post. Photo Friday will happen on Sunday. Make sense?
Last weekend was the last book event for this year – a popup store for local indie authors at Greenlight Comics in Adelaide. Joining me were Alex James and Darren Koziol. Thanks to everyone who popped in to say hi!
I don't know about you but I'm annoyed the shops started their Christmas push even earlier this year. Come September, and there was tinsel and Christmas bells starting to weedle it's way into the stores. Don't get me wrong; I love Christmas. I find it restores my faith in human nature (if I ignore the short-tempered shoppers stealing carparks). I get to watch schmaltzy movies, and be less embarrassed and I get to have crayfish as a special treat (it's getting very expensive these days). Sorry, I digress.
The shops. Yes, well…
I almost missed Christmas this year due to their over zealousness. Hanging decorations in hope of guilt-tripping people into spending more money definitely puts them on my naughty list. I've avoided the larger shopping centres for months now. I chose to ignore the glittery edges and the jingle-bell music. And almost missed it all together.
So this week I've tracked down my treasured Lions Christmas cakes, hung the door wreath, restocked the Christmas pantry and finalised present shopping. We finally erected the tree on Tuesday (though our outside Christmas lights are seriously lacking this year) and wrapped the presents. Oh, and ordered the crayfish to be picked up on Saturday. I'm afraid our presents and Chrissy cards will be late this year. Apologies to all.
This arrived on Wednesday – a present from my friend Susan (the one that kicked me in the butt to write my first book). Thank you, Susan!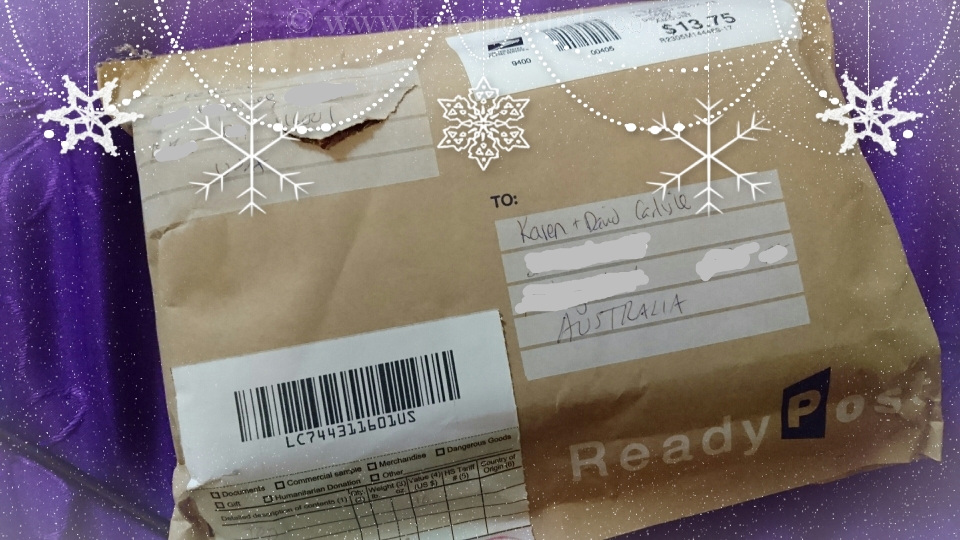 Dear Reader,
However you celebrate this weekend, please stay safe. I hope you find what you seek.
Merry Christmas.
Karen J.
And here's a Christmas bonus video from our recent Time Travellers' Picnic:
Originally published at karen j carlisle. You can comment here or there.
Earlier this year I scored some material on Freecyle (a local group who giveaway unwanted items so they can be recycled or reused), including brown cotton and blue polycotton offcuts. I was inspired to create a new steampunk outfit, loosely based on the character of Lara Croft. As usual, I left it til the last week to put my plan into action – for this year's Time Travellers' picnic.
The brown material seemed to be the remnants of an old sheet, left over from someone's project – wide enough to make a ruffle skirt (which would provide better circulation, hence much cooler than a pair of bloomers for a summer's afternoon). The blue cotton consisted of just under 5 metres of 48 cm wide offcuts – just wide enough to cut out waistcoat pieces.
To save time, I fished out a pattern I adapted for a previous project, and one I bought at the last Spotlight sale:
Butteric 3418 (skirt)
Simplicity 8114 (to make the waistcoat)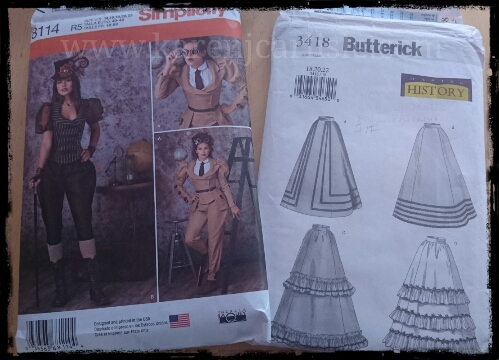 I use bought patterns as a starting point when time is short, using them as a sloper to adapt into something new. For this outfit I wanted a sleeveless waistcoat and a ruffled skirt with an uneven hem (longer at back).
Waistcoat: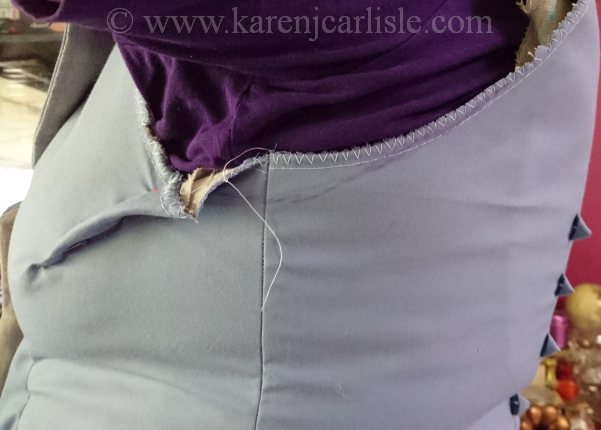 I ignored the sleeves and used the basic waistcoat pattern as a toile, reshaping and trimming back the armholes and adding a dart to make it more fitted (with some help from a friend to reach under the arms).
I used cotton duck (in my cupboard stash) for the interlining. Cotton breathes and is cooler than synthetic iron-on interlining.
The pattern suggested plastic boning. I used 6mm metal spiral boning for the front and back side seams, and 10mm metal spiral boning for the side seams. I find this lasts better and gives better support (plus I had most of it in my cupboard).
There was just enough material to include all the body pieces and make a matching bias binding. (2) Phew!
I added brass-look buttons to give a more steampunky feel. (3)
(3) Bias edging and buttons to finish off.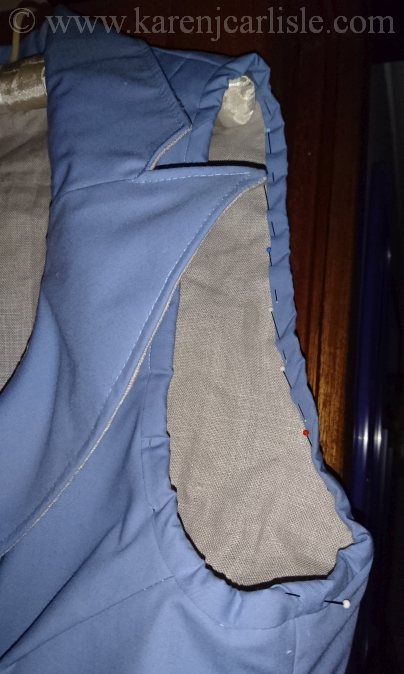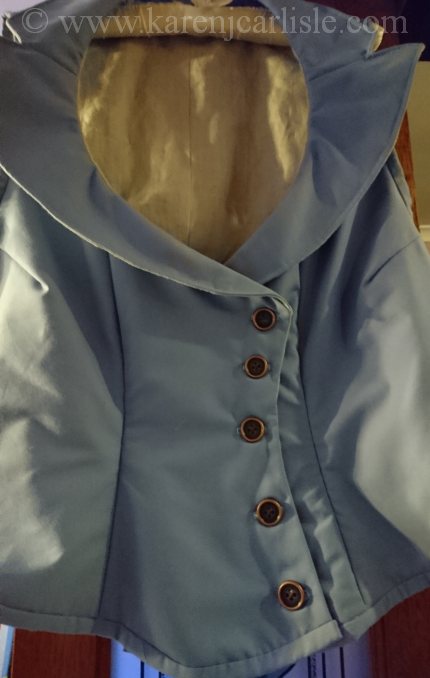 Skirt:
I wanted a shorter look to this skirt (to keep it cool to wear and reminiscent of Lara's shorts). The front hem was raised to the knee and the back raised a few inches, with the hemline curved to join up. I managed to eek the lower ruffle from the original material. But I wanted a flirtier look to the skirt – a second ruffle. I purchased 1.5 metres of complimenting polycotton and added a second ruffle. The edges were zigzagged in contrasting cotton for decoration.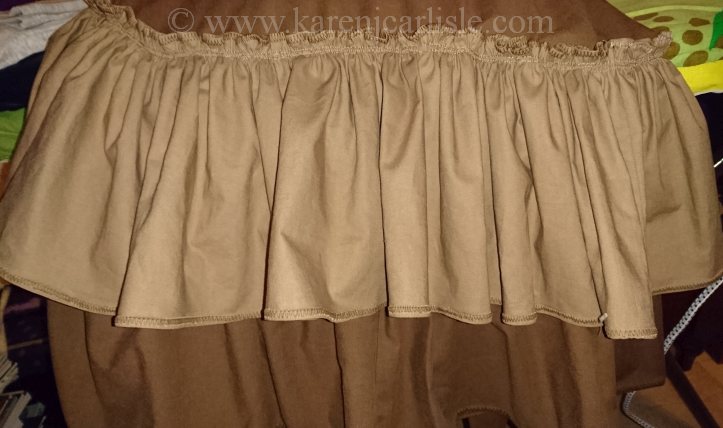 Summary:
My new steampunk outfit had it's debut at The Time Travellers' Picnic last Sunday – consisting of a double-ruffled skirt and blue, boned waistcoat/bodice. This was inspired by a 'Freecycle' stash of material I obtained – with blue and brown cotton-blend material. All I had to buy were buttons, some extra metal spiral boning pieces and some buttons. Total cost just under $30 (mostly for the buttons).
Photos:©2016 Karen J Carlisle/ David Carlisle.
Group photo: ©2016 Neil Swaddling.
All Rights Reserved.