Originally published at karen j carlisle. You can comment here or there.
Check your email for a  new flash fiction, news and upcoming events.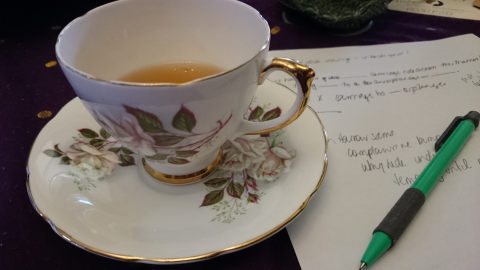 Originally published at karen j carlisle. You can comment here or there.
Certain groups seem to have a higher percentage of creative types. And steampunk is no exception. It's a creative culture. It nurtures the imagination – through a good book, a stunning costume or breathtaking images. But this is no cookie-cutter culture. Steampunk fosters individuality. Give a group of steampunks a box of similar items, and they will create their own, unique masterpiece; no two things alike. Writers, artists, costumers. We have the lot.
And you don't have to spend a fortune. I found a second hand 'Nickelodeon Slime Blaster' (water gun). It resembled the old Mortein fly spray pump-action squirter. My imagination took over and, voila! A Pump-Action Fairy Eliminator. And hence was born my Steampunk Fairy Catcher outfit. It's so much fun wearing this outfit to conventions! Just let loose your imagination; what would you have made?
I started doing photography in high school. (What better way to get out of PE than joining the photography club and taking photos for the school magazine? Back then we did it all in a dark room, with enlargers and smelly chemicals). Steampunk has re-kindled my passion for the art form. It's not just portraits. There are some gorgeously intricate gadgets -themselves inspiring – with intriguing shapes. Or the way the light catches on the brass…
Then there's my greatest passion: writing. Where would I be without steampunk?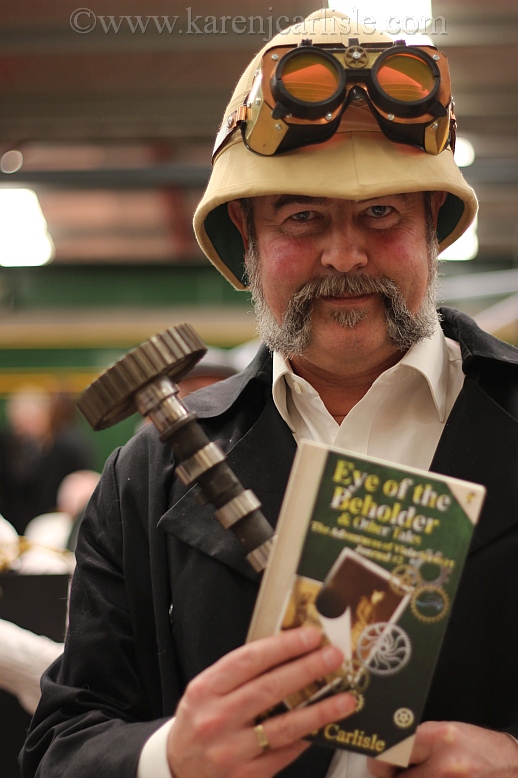 Over the years, I've started writing. Stopped. And started again. I just couldn't find my niche. I'd been a member of the steampunk community for about six years before I tried again. But what to write? They say: write what you know. So, I started writing a fantasy novel; a story that had been mulling around in my brain for over fifteen years. I got sidetracked by Viola. She wanted to tell her story. And her story was steampunk. I've now expanded my steampunk world, with two more planned series. Each is different. The Adventures of Viola Stewart were darker, Victorian mysteries (closer to gaslamp). The Department of Curiosities is a rollicking adventure. Then there's The Wizard of St Giles, set in the shadowy world we rarely see.
I can ferret around in familiar settings (like Victorian England or Colonial Australia), meet interesting historical characters (Tesla, Queen Victoria, Jack the Ripper), throw in a few of my own and see how they interact. Like costuming, I can immerse myself in history and indulge my passion for science and fantasy. I get to play the ultimate 'what if?' I get to cross-pollinate genres, postulate on alternative theories leading, or resulting, from historical events. I get to twist history. Or, if I prefer, I can create my own world, complete with steam-powered engines and cog-driven sentient beings.
Want some first-hand inspiration? Check out these drawings of how 19th century envisioned the year 2000 (in full steam) and what they imagined future space ships would look like: Science meets art in Le Sortie de l'opéra en l'an 2000 and Maison Tournante Aérienne (both from 1800s) can be found on the Library of Congress webpage.
So how has steampunk fired my imagination? Ideas come more readily and I speculate in many directions – adventure, paranormal, fantasy and science fiction – all enhanced through steampunk goggles.
Photos ©2013-2017 Karen J Carlisle All rights reserved.
Originally published at karen j carlisle. You can comment here or there.
Words:
Did a radio gig. Gave away some books. Wrote an on-the-spot flash fiction in ten minutes. Survived the 42 degree heat. Thanks to Jo, Marilyn and Carolyn who made me feel at home.
And a new set of dice (Story Cubes) for conjuring up words (looks like a Doctor Who story to me).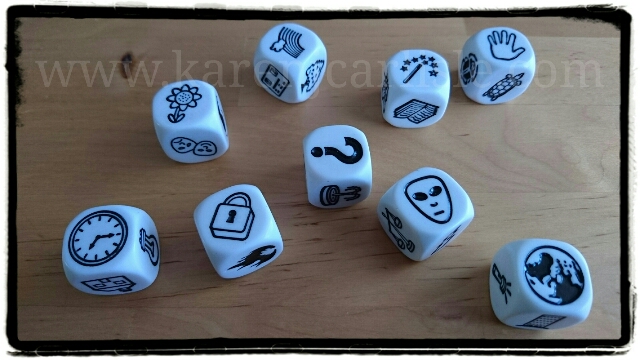 and then I got these for Valentine's Day; my Dearheart knows me well – writing and Doctor Who!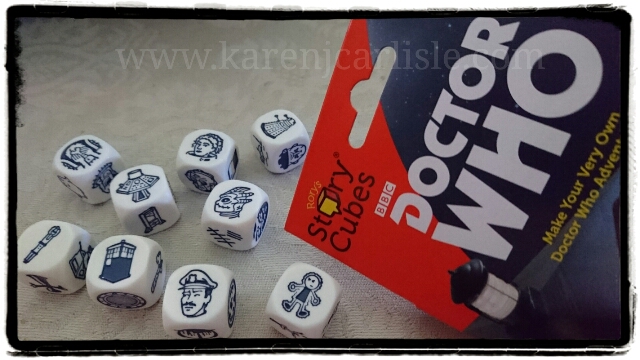 Colour:
Got my hair coloured – finally got the courage to bleach some of my hair to achieve the coveted purple!
Photos ©2017 Karen J Carlisle All rights reserved.
Originally published at karen j carlisle. You can comment here or there.
</p>
Bear with me, Dear Reader.
</p>
I'm about to tell you a tale – one that will offer you a glimpse into the circuitous route to my present mindset and how steampunk has made my life better by restoring a sense of wonder (1) to my life.
I'm a research addict. I crave it. I accumulate it. I hoard it. You can often find me spiraling down endless rabbit holes, in search of that one elusive fact, that last piece of a puzzle I've been chasing. The one thing that makes everything fall into place. It's the curse of a writer (or scientist, or quiz night-o'holic, or… ).
But there's more to it than that.
Imagine you're an explorer of uncharted lands:
Dust whips your face, lodging in your nostrils, scratching your eyes. You dig your fingers into the rock, ignoring the stinging pain as blood beads on your palm. You drag yourself up the precipice, thrust your arm over the crest of the mountain and spy the wonders of an undiscovered landscape.
Imagine the pure delight of such endless new discoveries. Researching my books is not unlike being an explorer. It starts me on my journey, inspires the landscape (setting) and encourages me to explore for new worlds, complete with wondrous gadgets for my characters to discover.
But there's still more.
It seems Sir Francis Bacon predicted our future: Knowledge is power (Meditationes Sacrae and Human Philosophy,1597) . Everyone wants a bit of the action. No one is willing to share.
Let's face it. Life can be a grind: Wake up. Go to work. Come home. Sleep. Repeat. (Though waking up can be optional). Endless days of monotony, in a seemingly uncaring world where we are either invisible and insignificant or vying for control.
But it doesn't have to be that way.
The Empire may have wanted to plunder the spoils of exploration but we – the explorers – can revel in the pursuit of knowledge. We can search for understanding and inspire wonder for others. We can trek into the unknown, searching for the wonder and mystery of life, of people, of experiences. And we can share them.
So how has steampunk made my life better?
It has inspired my research beyond the confines of my writer's chair, beyond the internet, beyond the library. It has encouraged me to discover the wonders of a community of supportive people. It has inspired me to explore the wonders of my world – past and present. It has given me the courage to wrench myself (sometimes literally), from the safety of my comfort zone onto that mountain side, defying my anxiety – to try new things, a new career and to experience life as I search for the hidden wonders in our broken but beautiful world.
Photos copyright Karen J Carlisle and MJC
---
(1) Definitions of Wonder (Oxford Dictionary):
A feeling of amazement and admiration, caused by something beautiful, remarkable, or unfamiliar.
A thing or a quality of something that causes wonder.
A surprising event or situation
Having remarkable properties or abilities.
Originally published at karen j carlisle. You can comment here or there.
A New Corset
I started making a new corset for events. (Thanks to Lynne for helping to fit my toile.)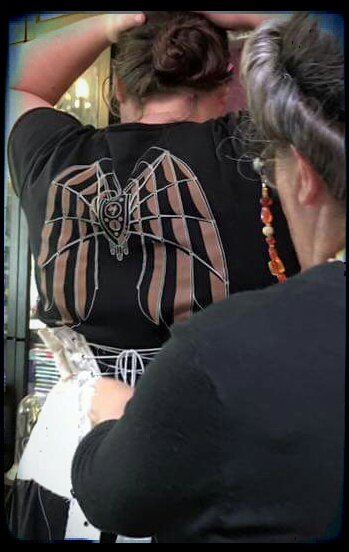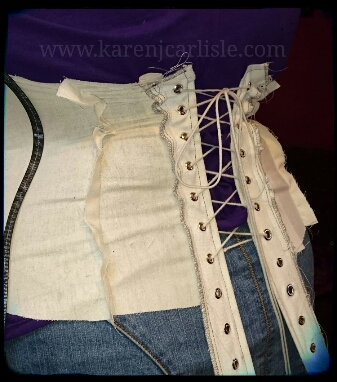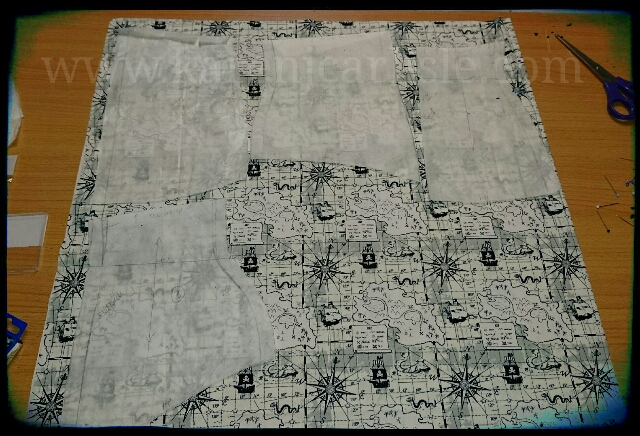 Finished toile


Up to adding spiral boning.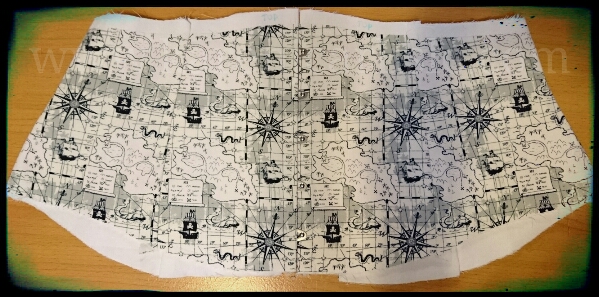 New books arrived at the post box: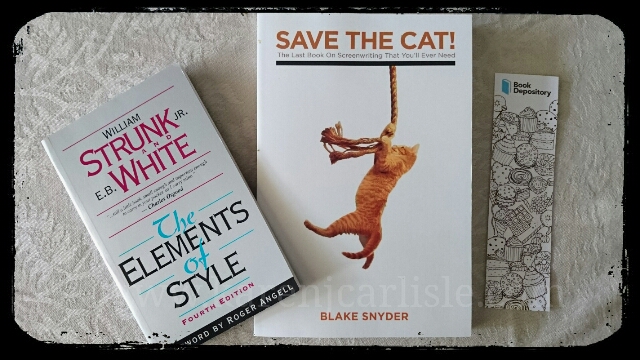 Announcing my first short story collection.
I've also been editing, formatting and computer wrangling. I've just published my first collection of fantasy, science fiction and steampunk short stories – written between 2013 and 2016 – With a Twist of the Nib.
And here's the cover: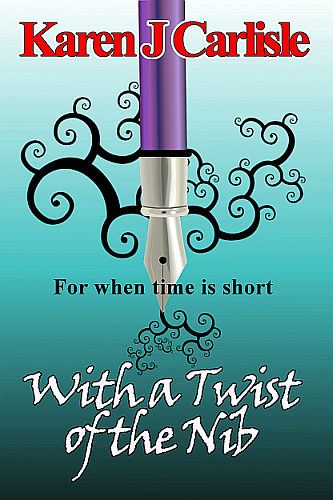 And More February Events
And another event this month! I'll be at the Salisbury Secret Garden on Saturday 25th February. Salisbury council presents bands, movies, family fun and, this year, they also have a creators' market as part of the Adelaide Fringe. I'll be there, with my books, t-shirts, mugs and badges! There's also a free concert by Thirsty Merc and other Aussie bands.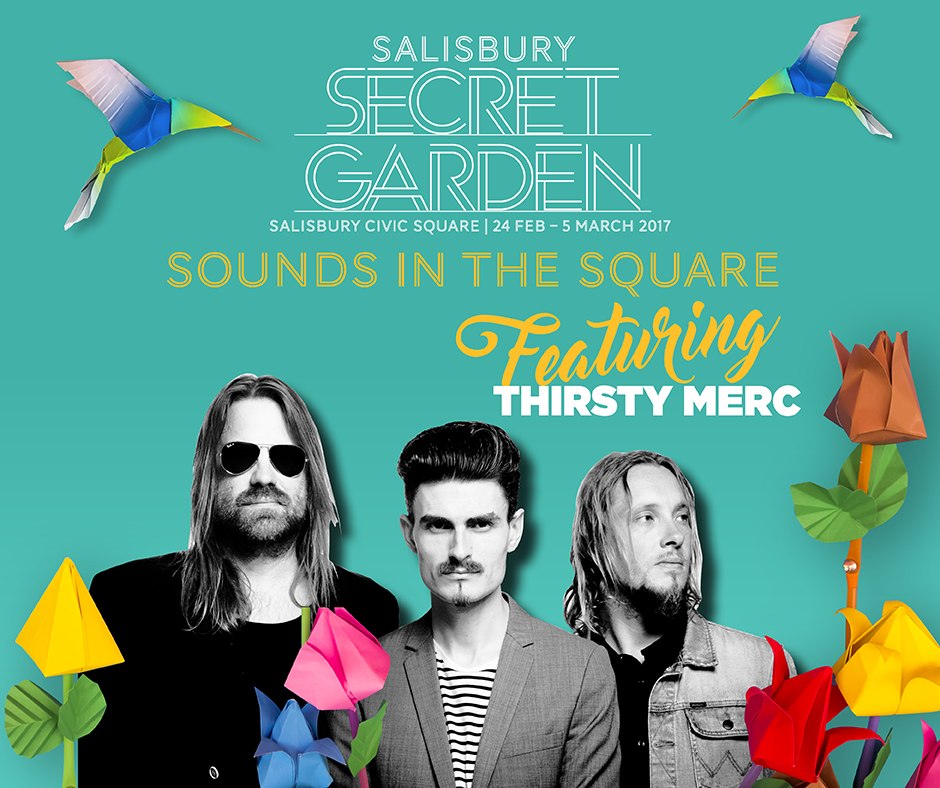 Don't forget to tune into Words Out Loud on PBS community radio (Salisbury, Adelaide) FM 89.7 (or online at www.pbafm.org.au) on Tuesday . Listeners get an opportunity to get a free eBook copy of With a Twist of the Nib. You can find out more about Words Out Loud on their FB page.
Originally published at karen j carlisle. You can comment here or there.
Wow, what a difference a week makes; this one ends on a more positive note. After a health scare (second ECG and blood tests were normal – phew!), it seems anxiety was one of the major causes. So I went on a tea cup shopping spree (well, T2 had a sale).
Of course, I had to buy some replacement tea balls.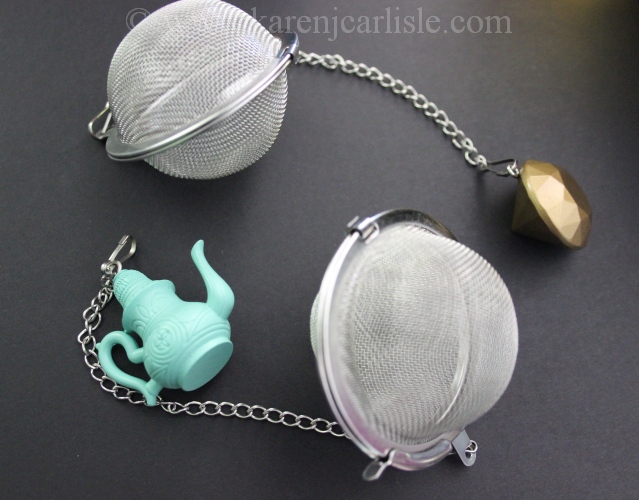 More sales provided an opportunity to get this cool mug.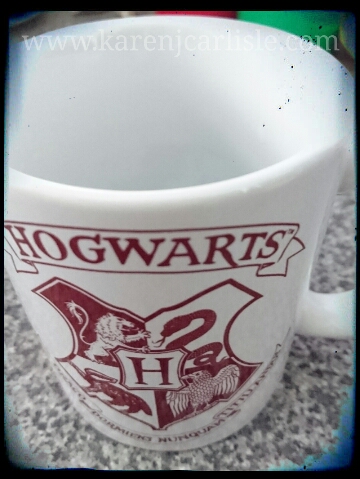 Each time I drink from it, I am reminded though things are still hiding under the surface, I can work on some new methods to cope to drown out escalating stress.
Photos and video  ©2017 Karen J Carlisle All rights reserved.
February is here and so is Steampunk Hands Around the World. You can read blog posts from steampunks from many countries on how steampunk makes life better for them. (Read my first post, A Whimsical Notion: Steampunk Hands Around the World #1) or check out Airship Ambassador's listing of daily posts HERE.

Also in February (confirmed this week) are two events on the same day! 14th February. At 10.30 am (Australian Central Daylight Savings Time) Jo Baker (Adelaide poet and champion of indie writers) will be interviewing me about my books and writing.  You can tune in on your radio at FM 89.7, or listen online at www.pbafm.org.au

And at 10.30 pm  (Australian Central Daylight Savings Time) I'll be hosting a spot on the Facebook virtual author event: Our Books Are not Free.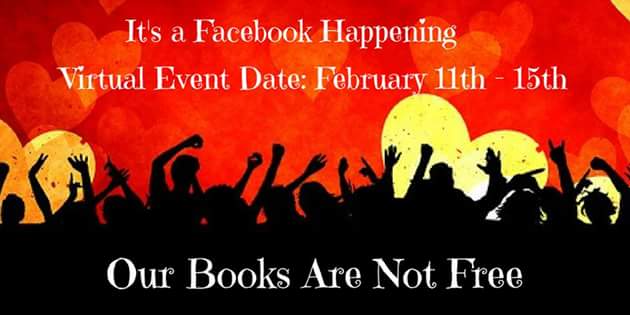 It's been a busy week. I think I need a cup of tea (in one of my new cups!).
---
Regular readers are probably wondering: Huh? What is Photo Friday doing on Sunday? February is Steampunk Hands Across the World – a month of posts from steampunks from around the world. My first Steampunk Hands post was on Friday (instead of Sunday) to kick off the month.  Next week will return to normal programming.
Originally published at karen j carlisle. You can comment here or there.
Greetings from Australia, and welcome to Steampunk Hands Around the World.
(This week's Photo Friday will be posted on Sunday 5th Feb)
Over the next month I'll be sharing my thoughts on how steampunk makes my life better. You can also read the thoughts of other steampunks from around the world – from the UK, Germany, Mexico, US, Sweden, Spain… and more. You can find a list of all participants at the Airship Ambassador's pages.
Today I start with an important lesson I re-discovered, thanks to steampunk:
to look at the world with the wonder of a child and embrace whimsy (1). 
When I look at the state of the world today, it makes me shiver. Literally. I shiver, my heart palpates. The constant bombardment of negative news, posts, tweets feed discontent, feed anxiety, feed the fear – with tumultuous results. Our world  is in crisis. Our Earth is dying. Our people, crying.
The world needs something to smile about; I need something to smile about – something, however small, to look forward to. Embracing whimsy is not frivolous. It is a form of protection. Ever wondered why we rally to fantasy movies and books in times of recession? When reality is unbearable we search for escape.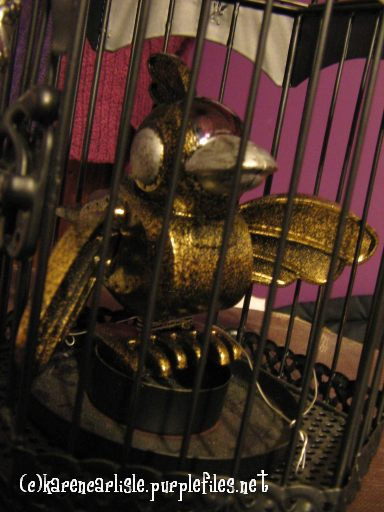 That is one way steampunk has made my life better. Look at some aspects of steampunk:
looking back to an era of etiquette and manners.
recreating history (well the good bits – like quest for knowledge and wonder of discovery), with a fantastical or fictional twist.
turning even the mundane items into individual works of art by
encouraging imagination, individuality,
and recycling and/or up-cycling unwanted items into artistic items of wonder.
whimsical cross-overs – steampunk pirates, steampunk fairies, steampunk Star Wars, steampunk Doctor Who – you get the gist.
Tea. There's lots of tea.  (All those antioxidants are good for you.)
So, how has steampunk made my life better? It's taught me to focus on the little things, the beautiful things and beautiful people. It's given me another strategy to cope with anxiety. I write, I create art and costumes. I socialise with supportive, like-minded people.
We need to discover the wonder and inspiration of the glinting treasures below the steaming pile of coal. We can strive to find ways to access that treasure and show the world it's beauty.
So here are Karen's Rules of life:
'Be excellent to each other'.
Look for the hidden treasures and beauty in life.
Encourage imagination.
Rediscover how to have fun.
Don't let the tyrants win.
Drink tea.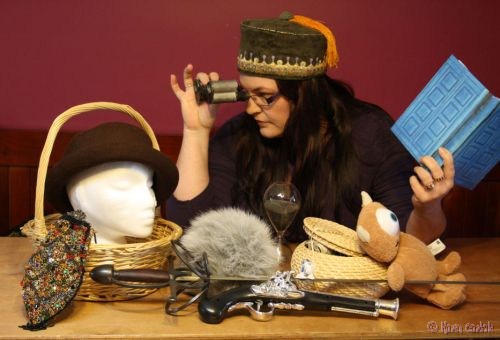 ---
Definition: Whimsical: "Playfully quaint or fanciful, especially in an appealing and amusing way." – Oxford Dictionary. Synonyms: fanciful, playful, mischievous, waggish, quaint, fantastic, unusual, curious)
Originally published at karen j carlisle. You can comment here or there.
Bonus post: Sharing my finished video of Dinosaurs Alive! at the AdelaideZoo. Dinosaurs Alive! finishes its extended stay this weekend.
Originally published at karen j carlisle. You can comment here or there.
Dear Reader,
Today's post is late. And there's a reason.
I had originally penned my thoughts on the Australia Day debate: to change the date or not to change the date? (To boil it down to basics:  The meaning of the day is more important than sticking to a date that celebrates only part of our melting pot of cultures, and creates a day of mourning for our indigenous people – who, by the way, is the longest surviving culture in the world. Think of that. Wow! I think May8 (Maate!) sounds good.) 
But recent worldwide events have overshadowed this (important) question.
Regular readers will know I suffer from anxiety, brought on by my previous job. After years of trying to cope with work stress and the weight of worrying about my patients, taking on their worries as my own, I broke. I took up writing, first as a distraction then a form of catharsis.
Recent global events broadcast live via social media, have re-ignited my empathy and worry – worry for refugees, worry for legitimate citizens born outside their place of residence, worry for women's rights, for gay rights, native land rights – all swept away with a stroke of a pen, defying even the courts of the land. (I was barely coping with similar things in my own country, but this latest onslaught, this is mega. This is beyond belief. This is overwhelming.)
I feel for the people of the world. I fear for the people of the world.
And Friday night I had a wake up call. I woke at 2.30am – sweating, with palpitations and pain. Stress? Migraine? Or…?
My anxiety escalated.
An ECG was performed, with, shall we say, not perfect results. A blood test was ordered. Four agonising hours later, I was cleared. Not a heart attack.
This time.
Tomorrow I see the doctor for a follow up and, most likely, a referral to a specialist. Was the ECG a false positive or is there something that needs attention? We'll also discuss over the counter medications and other reasons for the palpitations.
I've had another wake up call. And I've made a decision.
I will try not to dwell on the negative of the recent events but look to the positive: the resistance, the fight, the wins. Rather than share the negative posts and tweets of hell unleashed, I will endeavour to share the positive results – the solidarity and resistance.
I will try to relax and focus on the victories, my family, my friends and the good times we have. I can delve into antagonist's thought process in fiction – where I can explore them (and control them) in a safe environment and purge my soul of the anxiety. (Well, I'll try.)
Yesterday we had a few friends over to play board games. We introduced Terry to Steampunk Munchkin (she won). We were confronted by a most foul opponent of almost impossible strength: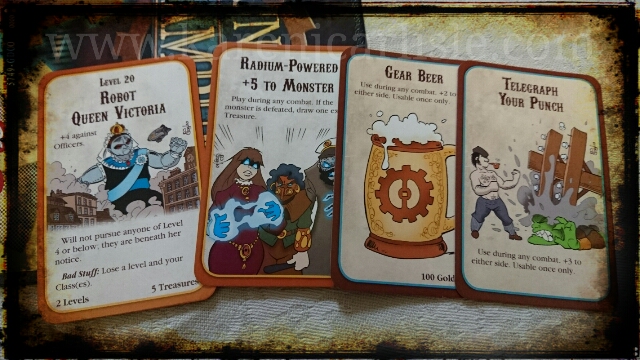 A +5 radium-powered Robot Queen Victoria, empowered by Gear Beer and ready for a bar room brawl – defeated by the co-operation of all the players. Huzzah!
That, dear Reader, is how we can heal the world – by joining together against our common foe – hate and racism. Divided, we fall. Together we can triumph.
Photo ©2017 Karen J Carlisle
All rights reserved.
Originally published at karen j carlisle. You can comment here or there.
A few years ago the Dinosaurs Alive show came to Adelaide. At the time we couldn't attend. But now they're back! This time they're roaming the Adelaide zoo. And this time, we got to see them. (And parking was free. Bonus!)
Dinosaurs Alive was originally planned to end this Sunday but their stay has been extended. You can now see the zoo's newest but most ancient residents until 5th February, due to popular demand. For more information, check out the Adelaide Zoo's website.
Photos ©2017 Karen J Carlisle / ©2017 MJC
All rights reserved.