Originally published at karen j carlisle. You can comment here or there.
I haven't had time to sew for a long time. This month I've tried to catch up on a few projects. Last week I showed you the beginnings of my new steampunked gun. This week I've been helping my daughter with her latest costume.
And catching up on clothing bits. I've finished an upcycling project for the weekend, creating new 'work' skirt from and old one I would otherwise not wear again. A shorter skirt is now a long skirt, after making a new skirt top and adding the original skirt on the bottom.
More pics to follow after Halloween Con this weekend.
And a few pics from this week's #inktober project:
World Squeeze is now available as a t-shirt from my Redbubble store.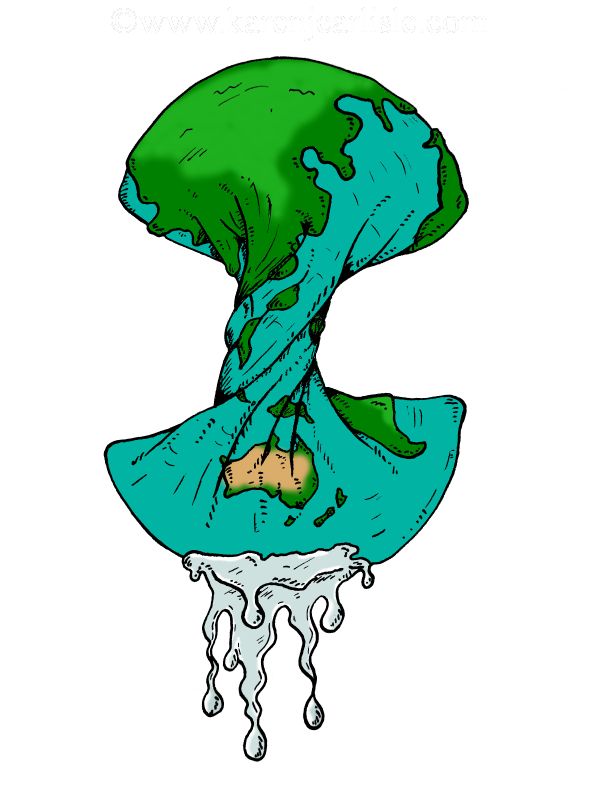 Art and Photos:©2016 Karen J Carlisle. All Rights Reserved.
Originally published at karen j carlisle. You can comment here or there.
It's almost NaNoWriMo time. The challenge is to complete 50,000 new words in thirty days. That's 11,667 words per week, or 1667 words per day. On a good day I can pen 1000-1500 words. On an exceptional day, when the stars align, I can write 2000 plus words. (I envy those who can get thousands  of words written in one day.)
You can read more on NaNoWriMo on my past blog post here. 
It's a hard slog, but not beyond the realms of reality. My record so far is 32,792 (done at Camp NaNo in 2015). A large chunk of my second book, Eye of the Beholder was written during last year's NaNo. And that was without any significant preparation – it snuck up on me!
This year I'm more organised. I'm determined to get a first draft of Viola Stewart's next set of adventures done (or at least a significant part of it). I've jotted down notes in various notebooks, scraps of paper and sticky notes. I have a small spiral notebook by the bed for those 'wee hours of the morning' inspirations when I can't sleep. I've even – now prepare yourself…
I even have basic notes for some scenes, some foreshadowing and three important plot points. Yes, shock, horror! This pantser has some some plotting. You can learn more about Pansting and Plotting in this post.
(Now I just need to find all those scraps of paper before next month.)
Journal #3 is the final planned book for this series, though Viola may return in future short adventures. Then it's a slight change of pace, as I concentrate on finishing the final few chapters of The Department of Curiosities.
Here's a few sneak peeks at what is happening with Journal #3:
The format will remain the same. Three short stories and a feature novella – but the order may change. Two shorts, the novella, and a final short to tie up loose ends.
After Viola's last, harrowing adventure, she's off on holidays for the opening short story, From the Depths.
The background story lines will be wrapped up.
The Men in Grey (The Society) will return (of course!).
As with the two previous journals (3 shorts+novella), the featured novella with have a very Victorian subject. This time it revolves around the mysterious world of the nineteenth century illusionist.
Blurb:
Viola returns for a third set of adventures. Viola needs a holiday. But even at the beach, or while partying on the grand tour of Europe… there are things afoot.
Seeing is believing… or is it?
And now to reveal the title (drum roll please):
The Illusioneer & Other Tales.
Here's another partial reveal. The cover for Journal #3 will be blue. So, when you to the library and ask for 'that book with the blue cover', it could be mine.
I'm currently collecting items related to the stories to feature on the cover – a surprise for later posts.
I've bought a new notebook and sharpened my pencils. I have a new USB to save typed files, pictures and cover design. Now I just have to wait until November 1st (and maybe write some more notes before then).
You can follow my progress on my NaNoWriMo page, blog posts and twitter.
Photos:©2016 Karen J Carlisle. All Rights Reserved.
Originally published at karen j carlisle. You can comment here or there.
Inktober has inspired another t-shirt design.
World Squeeze is my latest original t-shirt design, now available from my Redbubble store. The world can't take much more!
Originally published at karen j carlisle. You can comment here or there.
This week's variable weather hasn't daunted me. There is much to create. I'm working on steampunking up another opshop Nerf gun purchase (though the rainy days do slow down the painting process).
Almost there… Just need to finish off some paintwork on the barrel and grip, dirty it up a bit and add the 'gun furniture'.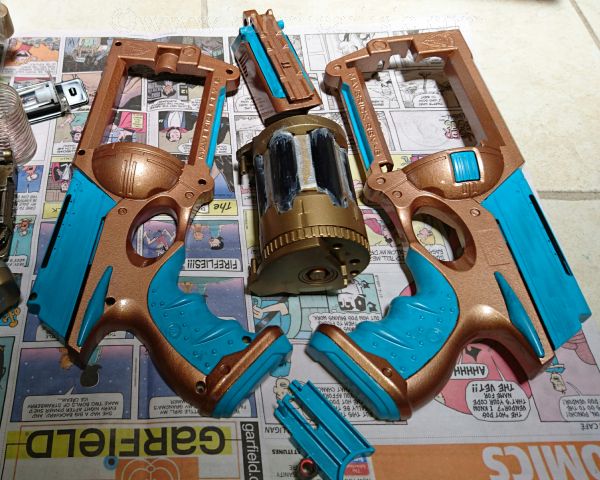 And here's some of my #inktober drawings since 7th October. You can follow them on twitter or see them all on my Pinterest page.
Day 12: Official Prompt: Worried.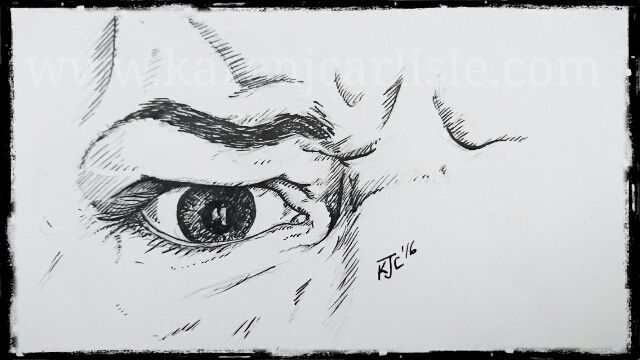 Day 13: Official Prompt: Scared/ Day 16: Official Prompt: Wet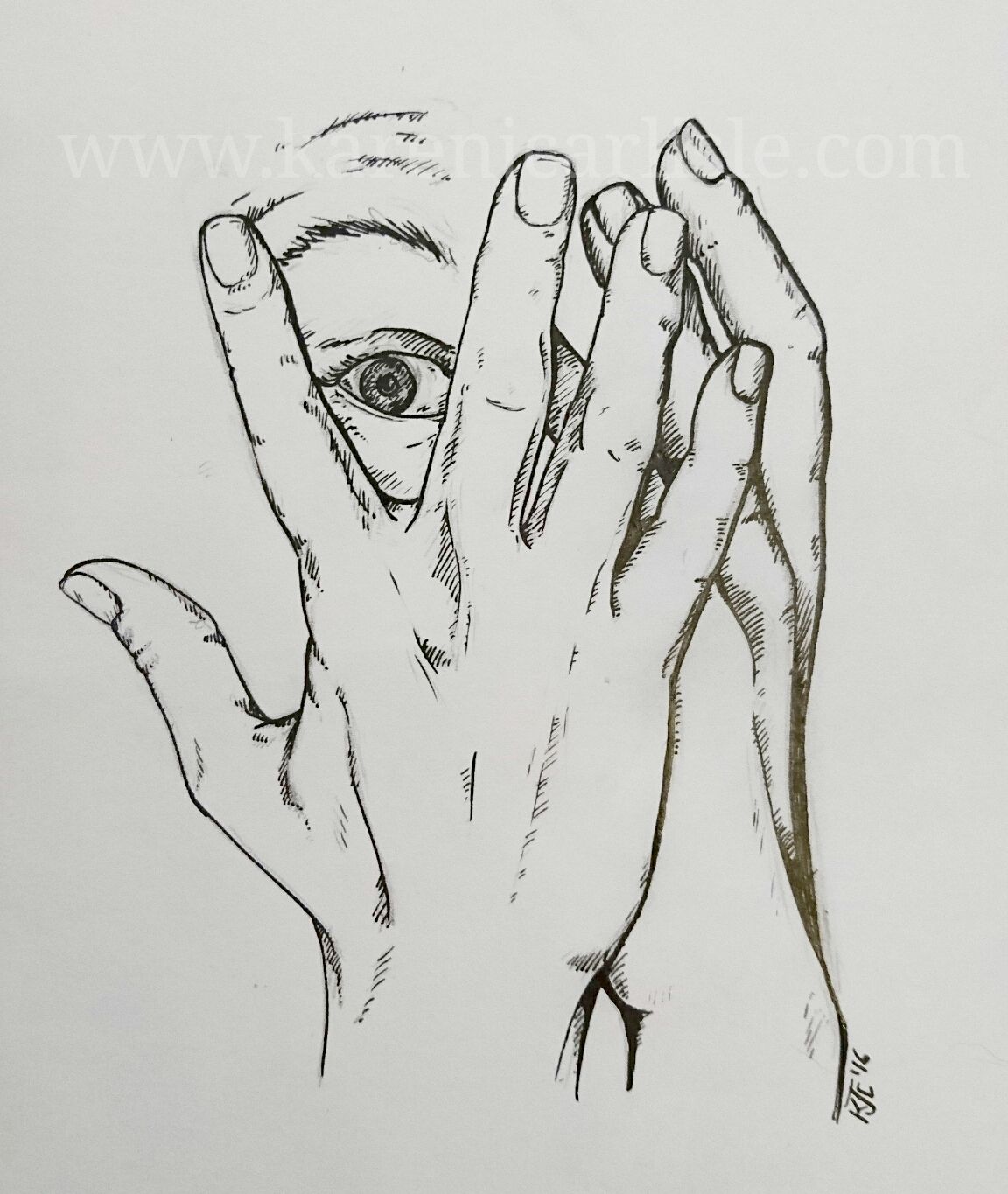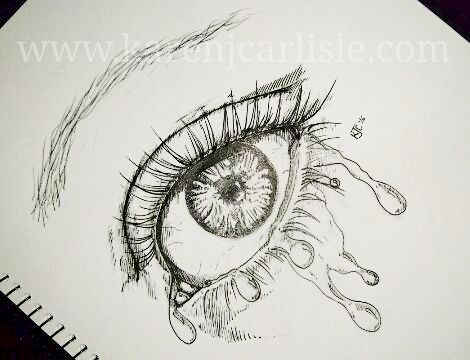 Art and Photos:©2016 Karen J Carlisle. All Rights Reserved.
Originally published at karen j carlisle. You can comment here or there.
Penny Blake's Smith and Skarry character, Mrs Baker, interviewed me for her regular Soup of the Day blog post, as a follow up to her recent review of Doctor Jack.
Check it out.

Originally published at karen j carlisle. You can comment here or there.
My Tea & Tidings newsletter is on its way, with exclusives and sneak peeks at some upcoming events and writings.
Sign up now and don't miss out.

Originally published at karen j carlisle. You can comment here or there.
So, this happened today. Got a review for Doctor Jack…
I just couldn't wait til Sunday to post. I recently got an email asking if I would do a writer interview, as the blog writer was doing a recommendation for my book. Well, this was the review:
'Karen J Carlisle has created a captivating steampunk series with her heroine, Viola Stewart – a widowed optician with a talent for detecting.
This book has the same comforting familiarity of picking up a Conan Doyle or an Agatha Christie but enough uniqueness in terms of plot and character to keep us on the edge of our leather armchairs throughout – you know by the end of the second page that you are both 'in safe hands' and 'in for a thrilling ride' – Most of us have heard the tales of Jack The Ripper but this new version goes beyond the common knowledge to reveal a chilling world of Grey-clad conspirators in which Viola must keep her wits about her if she is going to uncover the truth and survive."
You can read the full blog post at The Curious Adventures of Messrs Smith and Scarry: Morning Cuppa – In Need of a Doctor.
Needless to say, I'm still on cloud nine! The interview is on the same blog this Wednesday. Thank you to Lou for the review and taking the time to contact me.
Originally published at karen j carlisle. You can comment here or there.
Do you want to know what I'm planning or what events I'm attending?
Did you want sneak peeks of upcoming stories, competitions or promotions?
Did you know I have a monthly newsletter?
If you want to keep up with my latest news and be the first to get sneak peeks,
please sign up today. 
The next issue of Tea & Tidings will be flying out in three days.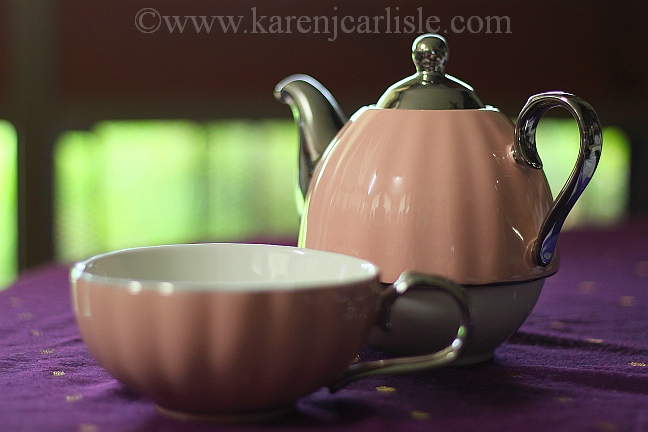 Originally published at karen j carlisle. You can comment here or there.
Modern forensics is amazing. Scientists can tell you blood type, DNA profiling, retrieve fingerprints from most unlikely places. If there is evidence, the culprit can be identified. We take it for granted. But did you know DNA wasn't used until 1985?
In 1888 – at the time of Jack the Ripper – policing was a lot different than it is today. Scotland Yard's Criminal Investigation Department of detectives had only existed since 1878. The media, and the public, thought them a joke. Punch described them the Defective Department and the Criminal Instigation Department (3).
When London was gripped in fear over the Whitechapel Murders, there were few modern procedures to aid in investigation. By the end of Jack's spree, police investigation was already starting to change – by necessity. One of the most obvious aids to securing the identification of the killer were 'chance impressions' – what we call fingerprints.
Let's take a closer look at fingerprints. Would Doctor Jack linger at a crime scene to wipe it clean?
Not likely. He probably didn't even know what they were. But the Metropolitan Police did and – if they had heeded the advice of a village surgeon ahead of his time, and that of a Scottish surgeon forty years later –  perhaps Doctor Jack may have been identified.
The first recorded evidence of fingerprints was in 1665, when Italian physician, Mercello Malpighi, wrote of the existence of fingerprints (2). The first scientific paper to describe fingerprints was written by English physician, Nehemiah Grew, in 1684 (6):
'with a Ball he may perceive besides those great Line s to which some men have given Names and those of a middle size call d the Grain of the skin innumerable little Ridges of equal bigness and distance and e very where running parallel one with another And especially upon the ends and first Joynts of the Fingers'.
German, Christoph Andreas Mayer, reported them to be individually unique in 1788 and a Czech physiologist  published a thesis discussing 9 fingerprint patterns in 1823.
Scotland Yard's first chance to use this new technology was in 1840. A village doctor, Doctor Robert Blake Overton, wrote to Scotland Yard, suggesting they check the reported bloody fingerprints found on a bed sheet, in the murder of Lord William Russell. To give them their due, this was followed up, with 'no such marks' found. Unfortunately they did not realise their potential and there was no change in investigative procedures (5).
In the meantime, research continued elsewhere in the world, with William Hershel using fingerprints to identify villagers in India in 1858, and Paul-Jean Coulier discovering iodine could reveal fingerprints on paper (1863).
The UK Prevention of Crimes Act of 1871 provided the British criminal justice system with a reason to consider fingerprints. It was now required for convicted criminals to be photographed for future identification. On leaving gaol, criminals had their appearance, distinguishing marks and inked fingerprints recorded, to allow for identification if they should re-offend (8). In 1877, Hershel was fingerprinting sentenced prisoners, in India, to prevent them using fraud to avoid their sentence. Both were using fingerprints to identify existing felons only.
It wasn't until 1880, that Henry Faulds succeeded in identifying prints on a vial and published a paper in scientific journal, Nature. This led to Scotland Yard's second opportunity to use fingerprints for investigating a crime.
In 1886, just two years before Jack the Ripper's reign, Henry Faulds wrote to the Metropolitan Police of London, suggesting the use of fingerprints, citing finger impressions left behind on fragments of ancient pottery. Again the opportunity was dismissed. Perhaps if they had realised their potential to link an offender to a particular crime, we would know Jack the Ripper's real name today?
Fortunately, the information was passed onto Francis Galton, who continued to study fingerprints and eventually published his book, Finger Prints, in 1892 (7). In the same year, Argentine chief police officer, Juan Vucetich, created the world's first Fingerprint Bureau. The South Australian Police Force were using fingerprints in 1894 (1) and a fingerprint bureau was set up in Calcutta, India, in 1897.
It wasn't until 1901 that Metropolitan Police headquarters, Scotland Yard, had its own fingerprint bureau. Britain's first conviction using fingerprint evidence (for a theft), was in 1902.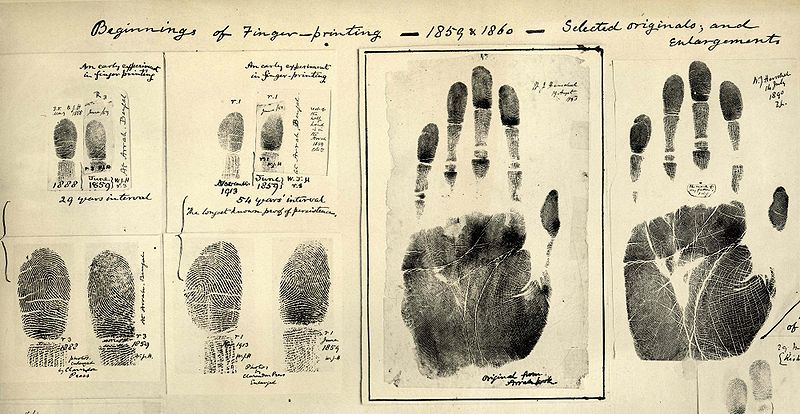 First Fingerprints taken 1859/60 by William James Herschel (2).
Today, fingerprints are not only a means of identifying an individual but they can be collected at crime scenes as a tool for investigation, linking an offender to their crime and aiding to secure a conviction.
References
Webpages
Australian Police: Fingerprint History http://www.australianpolice.com.au/dactyloscopy/fingerprint-history-1/
Jack the Ripper 1888 http://www.jack-the-ripper.org/investigation-techniques.htm
South Australia Police Historical Scoiety: http://www.sapolicehistory.org/detectives.html#fingerprints
Vital Clue Ignored for 50 Years  Alberge, Dalya (9 December 2012). "Vital clue ignored for 50 years". London: Independent. Retrieved

28 December

2015.

Books
Grew, Nehemiah (1684). "The description and use of the pores in the skin of the hands and feet". Philosophical Transactions of the Royal Society. 14: 566–567. 

Worsley, Lucy. A Very British Murder: The Story of a National Obsession,  BBC Books, St Ives. 2014
Originally published at karen j carlisle. You can comment here or there.
Random pictorial representation of my week:
Fun: New set of dice- just in time for tomorrow's D&D game…
Accomplishment: Inktober accouterments…
Thought provoking: Ivy smothering  a native gum tree – an analogy of early Australia being strangled by outside culture?
Satisfaction: Eye of the Beholder & Other Tales is now in the library system…
Inspiration: A trip to the SA Art Gallery.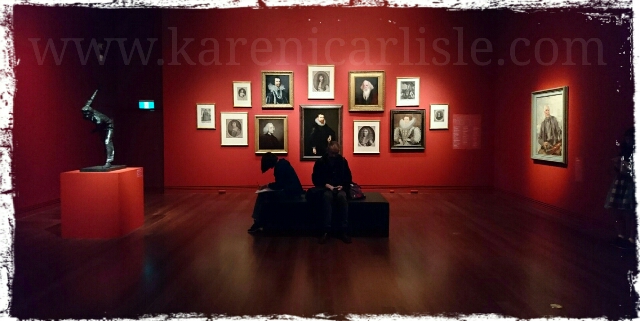 Photos:©2016 Karen J Carlisle. All Rights Reserved.
If you wish to use any of my images, please contact me.