Originally published at karen j carlisle. You can comment here or there.
The Interview by Crime Writer, Amanda Howard is now live. We talk about books and my writing process and habits – amongst other things.
Read on her blog, Killing Time.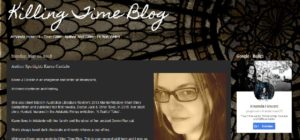 Originally published at karen j carlisle. You can comment here or there.
12-13 hours writing a day for two weeks and crashing iron levels. I'm exhausted. One. More. Long. Chapter. To. Go.
Then it's a final rewrite and resolving any persisting sticky notes… and to the beta readers!
I'm cutting it fine but I've almost made up for two months of respiratory issues this year.
I've bought a 'new' tea cup from the opshop to help me push through.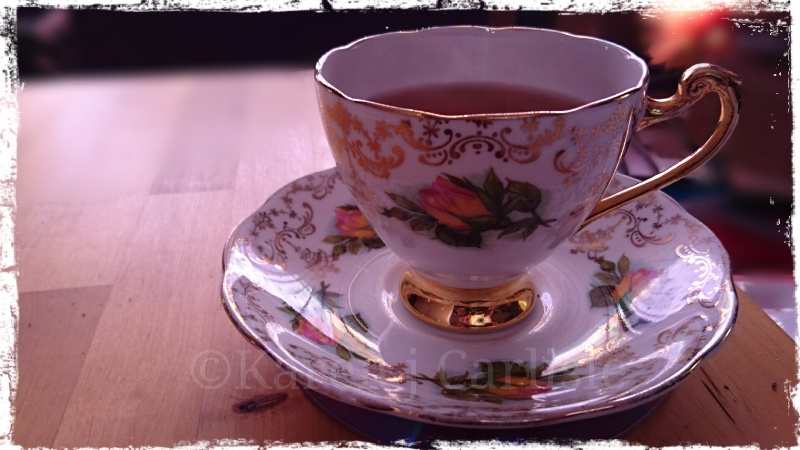 Originally published at karen j carlisle. You can comment here or there.
Been re-writing the new ending for Aunt Enid this week.
Just wrote two words: THE END.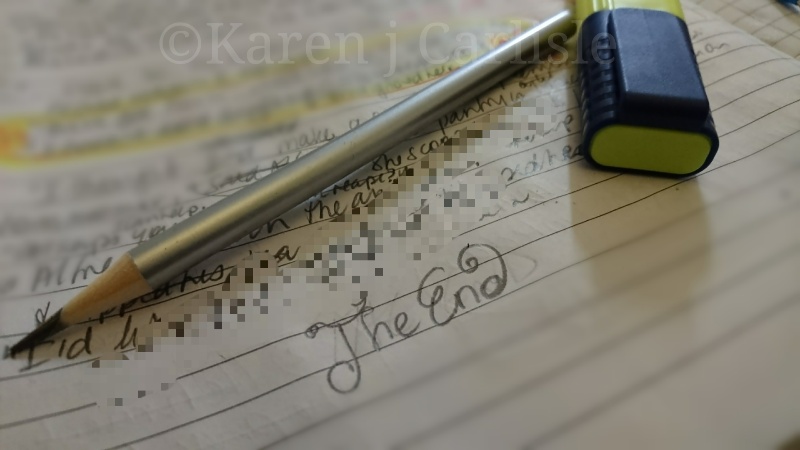 Tomorrow begins rewrites and edits.
Originally published at karen j carlisle. You can comment here or there.
If you're going to Pop Con 2.0! on the weekend, you can find me at Table #1 in Artist Alley.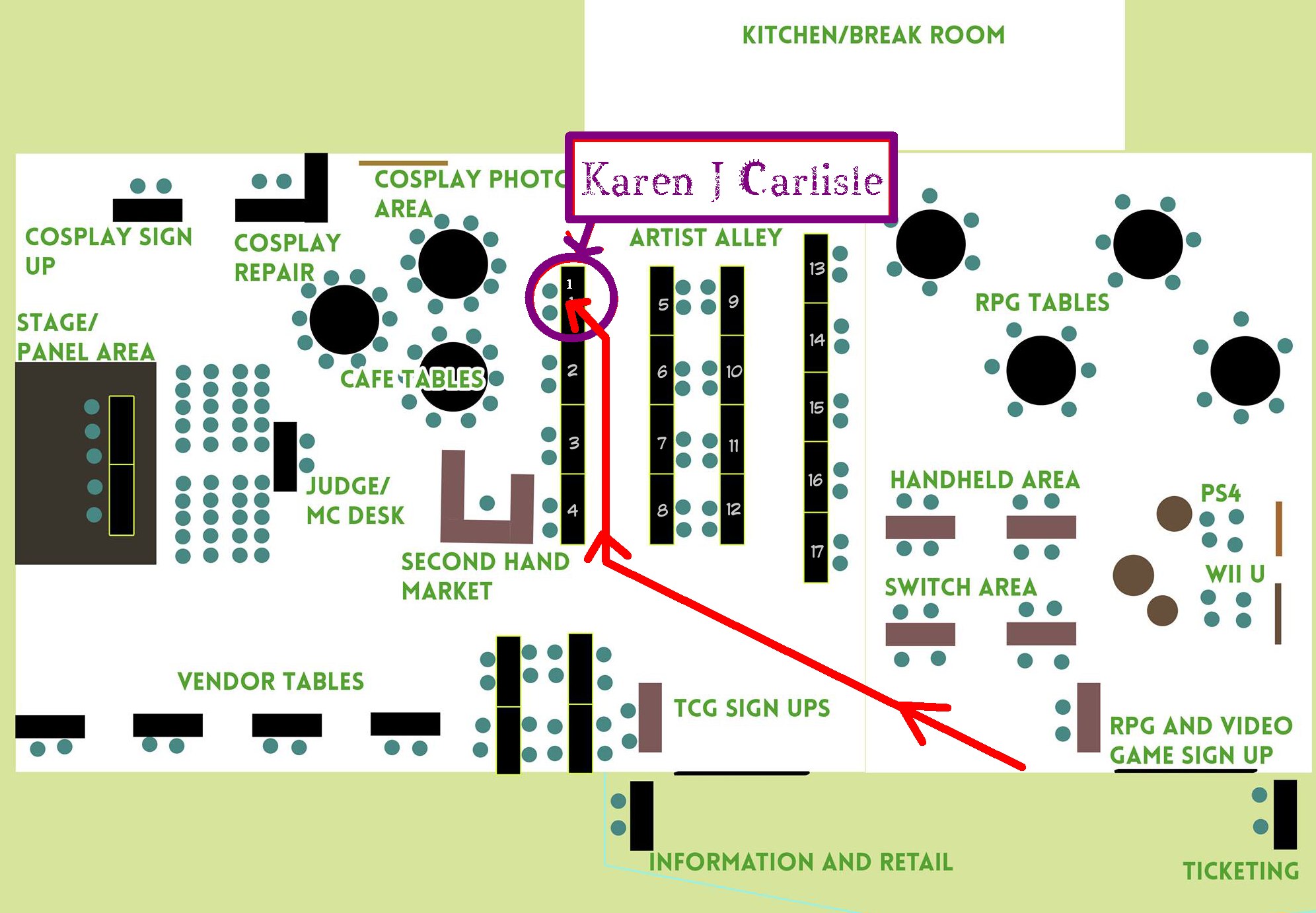 Originally published at karen j carlisle. You can comment here or there.
Aunt Enid should be finished later this month. I've had to reschedule the official launch to 21st May.  29th May.
I'm still battling the respiratory issues from the burn offs when I was in Melbourne. Regular readers will know I get bronchitis from dust, pollution/smog and smoke. At least this year I've only had two bouts (over a month) rather than the three-month-long battle of last year. (I currently rattle when I move.)
The doctor said to 'drink more green tea' to help. So I am: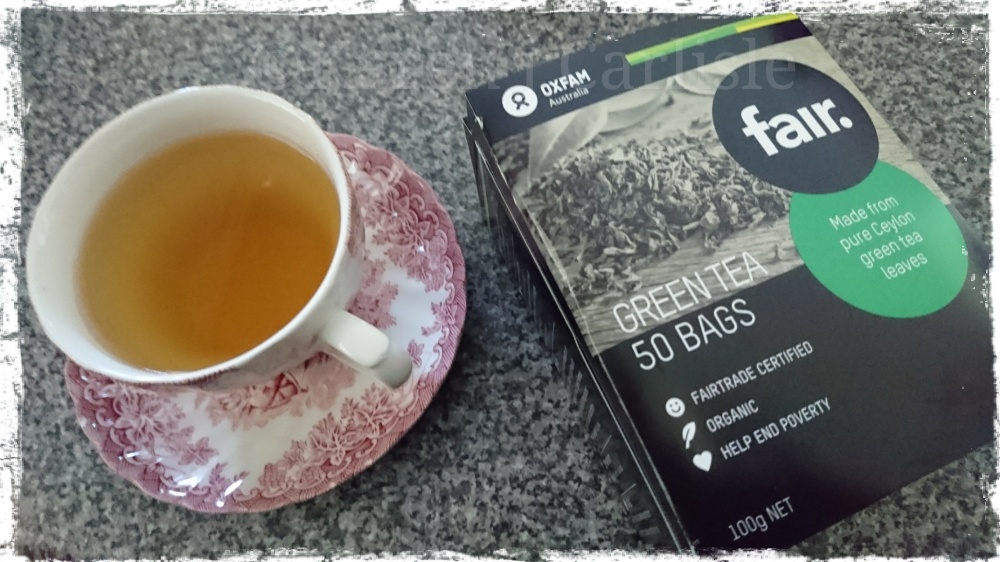 Until then, you can find out more about me and Aunt Enid over the next few weeks, by following the pre-book launch events.
I had a pre-order promo was held at Melbourne Supanova.  A big thank you to those who have pre-ordered your paperback copies. You rock!
I will email you around the 14th with an update (due to the schedule change) and then as soon as the book is finished and back from the printers. Apologies for the unexpected date changes.
I have there are three interviews organised over the next three weeks.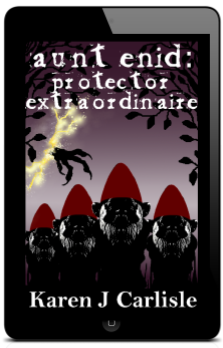 And finally, I will be having a FB book launch event (currently scheduled for  Monday 21st
EDIT: (Another health relapse. date has been rescheduled for Tuesday 29th May).  You can say hello, ask me questions and win eBook copies of Aunt Enid, during the day.
There is also an eBook sale (66% off) running from 29th May to 15th June if you want a copy.
(Click here to find out how to get your copy)
Voucher code available
29th May.
Originally published at karen j carlisle. You can comment here or there.
Good day to my subscribers, and welcome to my new subscribers from Melbourne Supanova.
May's Tea & Tidings should be landing in your inbox today with latest updates on Aunt Enid: Protector Extraordinaire.
Originally published at karen j carlisle. You can comment here or there.
This was my first interstate convention trip to sell my books. I've been interstate many, many times in the past to attend them (mostly in the 80s/90s for fan cons). So this was an adventure.
The big questions were:
How to find close accommodation
How many books, mugs and accessories to take?
and could we fit them in the car?
Fortunately I had company: my fellow Adelaide Indie Authors, Matt Pike, KE Lowe and Kylie Leane. We found an Air B&B (another first for me) only 4 minutes drive from the event.
The con venue was huge. This year the Artist Alley had its own tent – literally.  Last year it was in the Exhibitors (merchandise) tent. This was both a good, and a bad thing.
1. everyone in the pavilion were there to see the artists and authors.
2. The event was sprawled over different buildings and many attendees didn't even make it to our tent (before spending all their money).
Several Indie authors I've known for years on social media or in writing groups attended Melbourne Supanova (Melbourne is half way between Sydney and Adelaide), and I finally got to meet them!
Felicity Banks writes steampunk, set in Australia. We've been sharing writing (and health) info for some time now.  I met Ash Oldfield and Chris Heinicke from FB writing groups  and I was introduced to Rachel Nightingale by a mutual SCA (Society for Creative Anachronism) friend.
There were amazing costumes, but not as many as I expected.
I sold quite a few books at Supanvoa. Someone even pre-ordered Aunt Enid!
Best feedback of the weekend: Day 2 (returning after buying book one, Doctor Jack & Other Tales, on day 1) – "I need to buy the next two books. I started reading the first book, my mum took it off me and spent the rest of the afternoon reading it and won't give it back."
Best unexpected meeting: Jack, from a local library, was hunting for new books. We chatted about library stuff. He took my card, as they are looking to expand their offering and want more steampunk books. (squee).
For those of you in Australia, my books are in the library system. Several libraries in Adelaide already have copies. I'm hoping some Melbourne ones will soon.
Unfortunate things about the weekend (other than the near crash on the way over):
The heat inside the pavilion.
Thank goodness I brought my inhaler! Melbourne has a visible fog layer (and there is local burning off). I've been wheezing all weekend.
And all that standing has had a toll on my back. I was off for a massage today.
I hibernated for the rest of the week. These events zap my energy, leaving me with no spoons. For those who don't know about the Spoon Theory with regards to chronic illnesses, you can read about it here.  Now I'm back at work finishing off Aunt Enid.
Red, the garden gnome (from the cover of 'Aunt Enid:Protector Extraordinaire') joined us on the road trip, along with my indie author co-conspirators. He made a pictorial road trip diary:
Thursday:
We started at 7 am.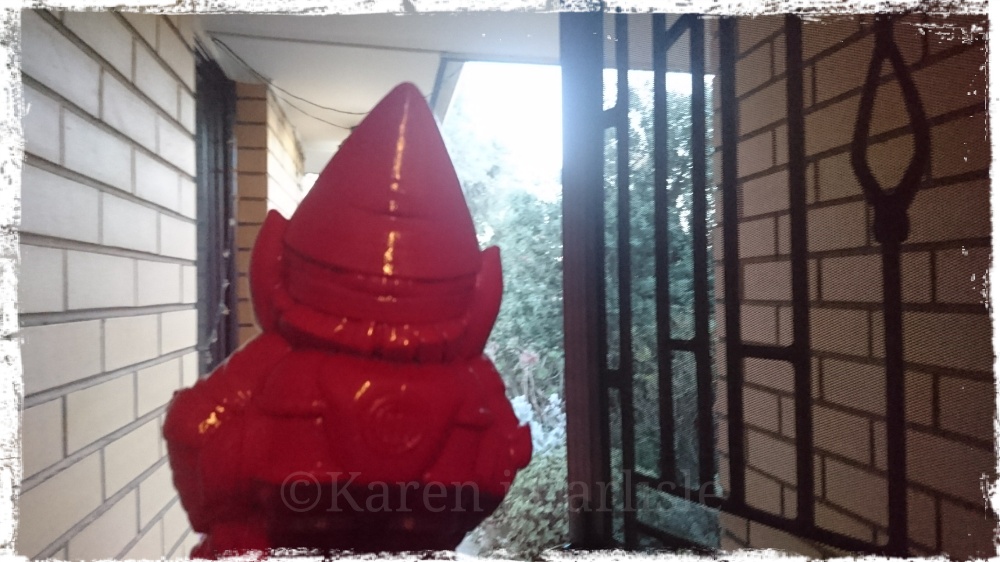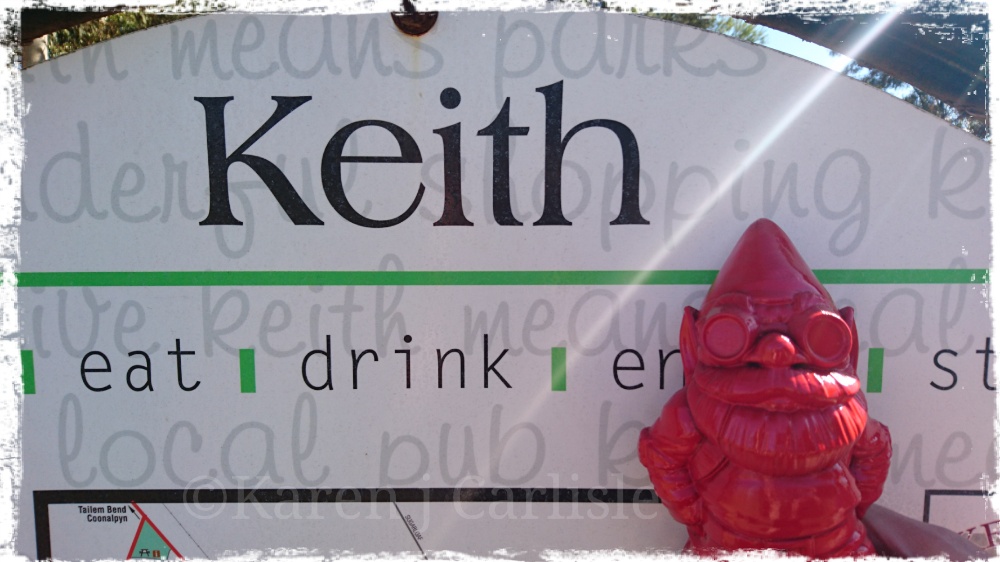 The convoy rejoined at Keith – uniting the intrepid travellers.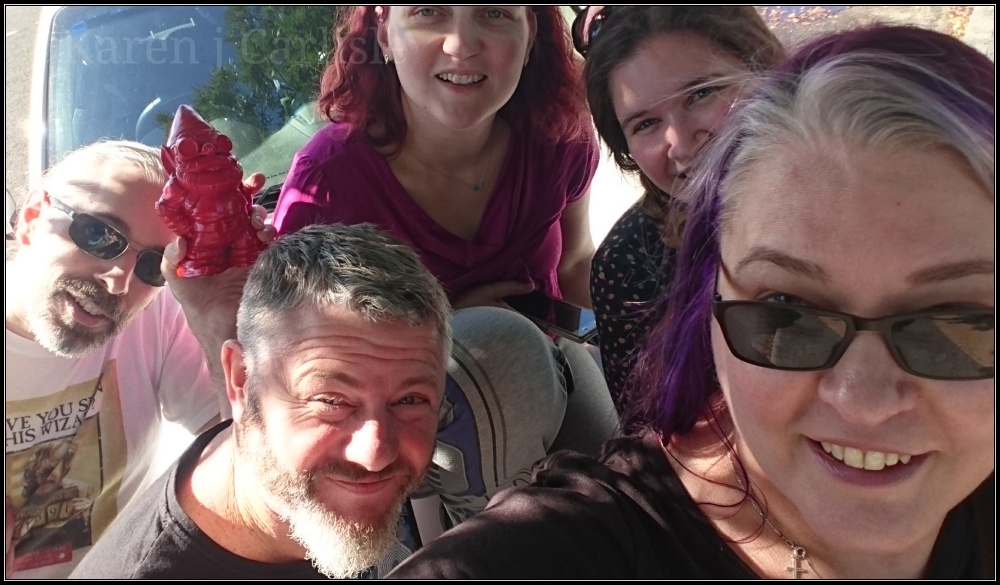 Then it was back on the road…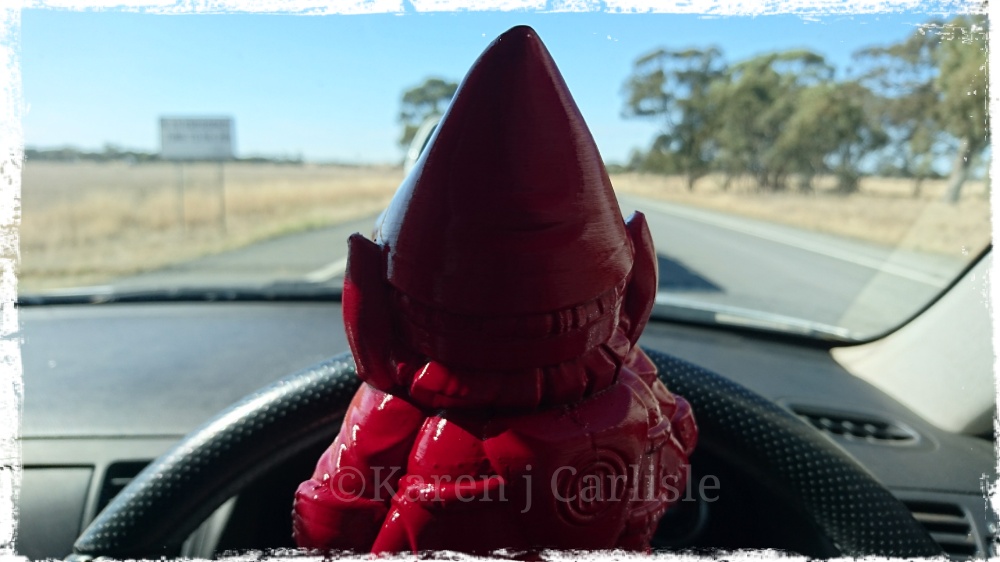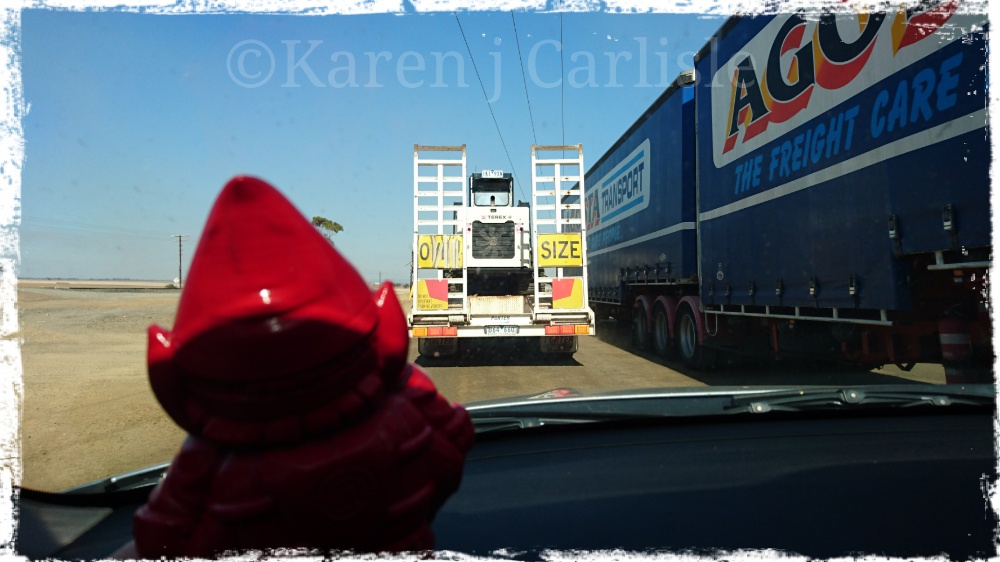 And we arrived at our Air B&B in time for tea. A big thank you to Katie who played mum and cooked for us.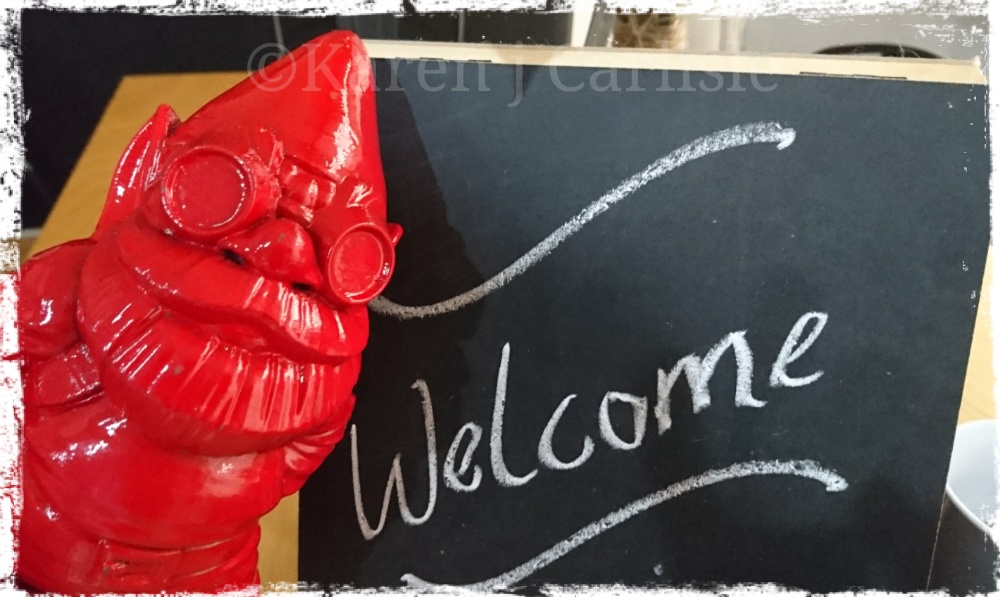 Friday:
It was onto the showgrounds and the big tent for set up on Friday.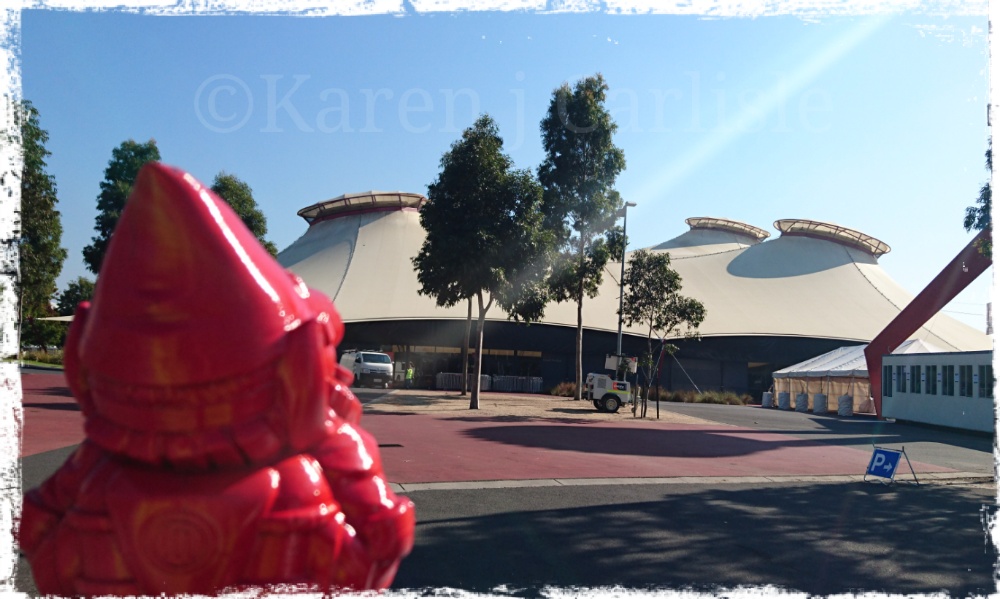 and I got to wear my new Gnome (Aunt Enid) t-shirt!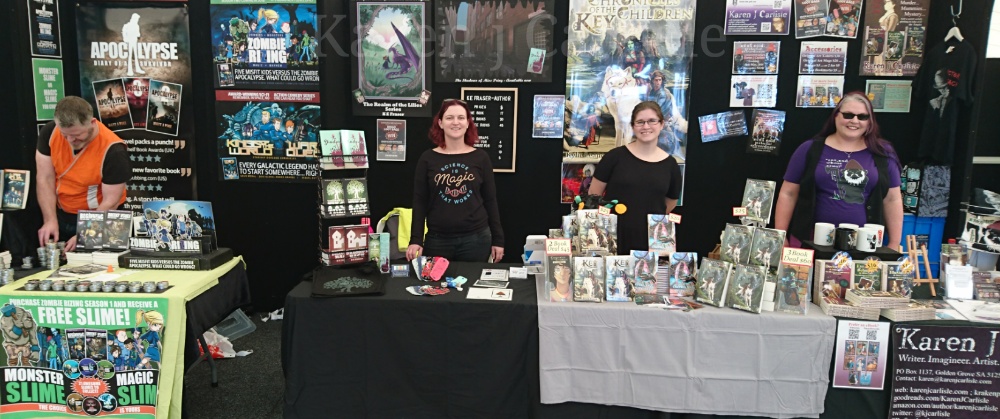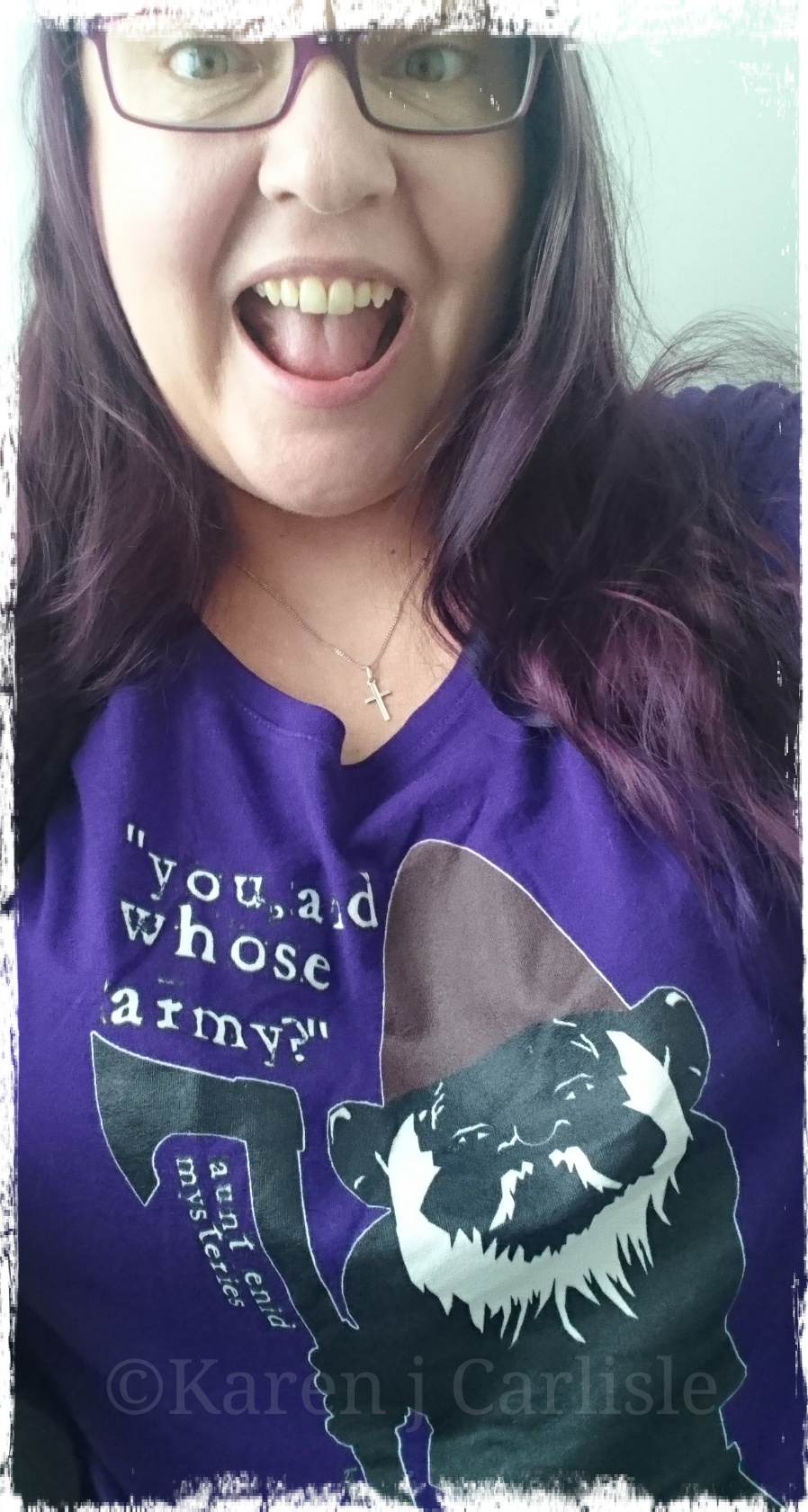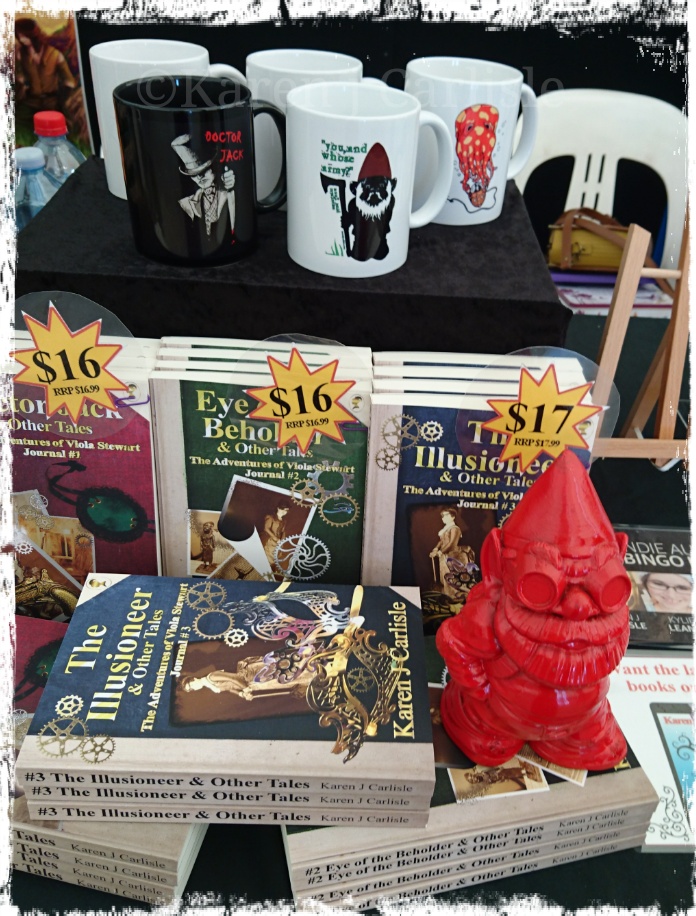 Saturday:
The view from our table. Yes, there is a world out there!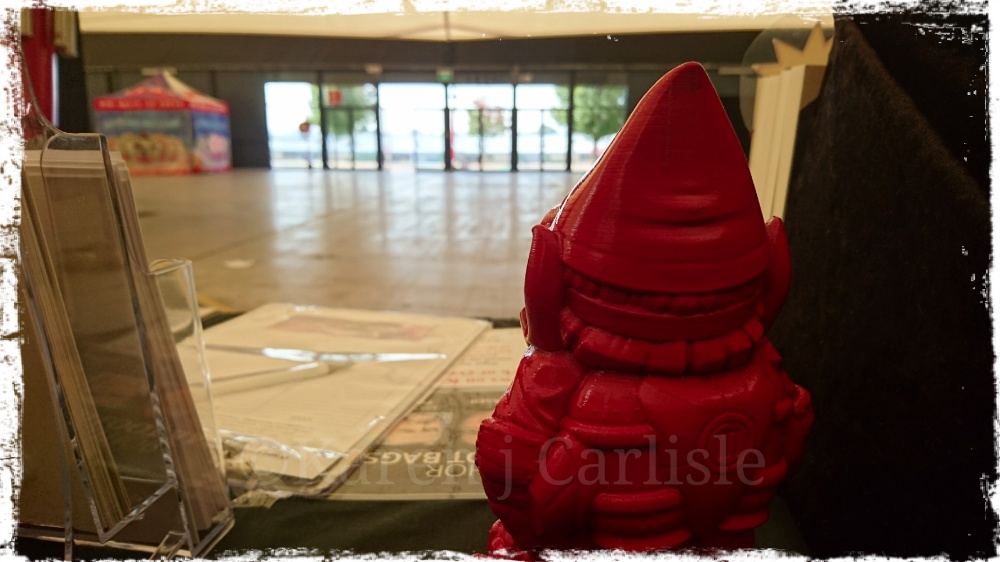 I would have loved to get a photo with Peter Capaldi but, alas, funds did not stretch far enough… a kindly fellow author let me touch his coveted ticket. Sigh.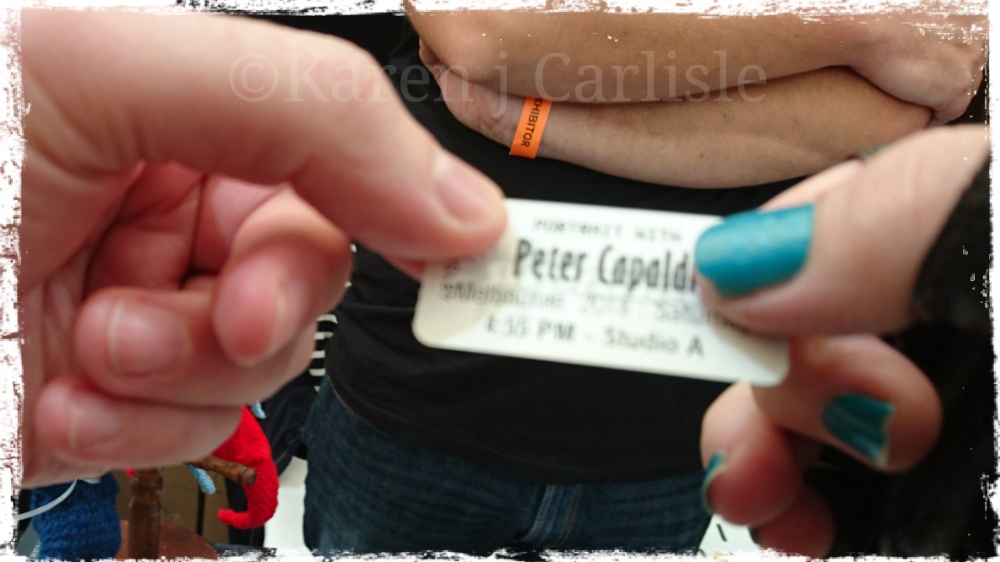 Sunday:
I was very restrained this con. This is my purchased stash (plus a copy of Penolope Lowe's 'The Three Dungeoneers'. (Guess who's a D&D fan.)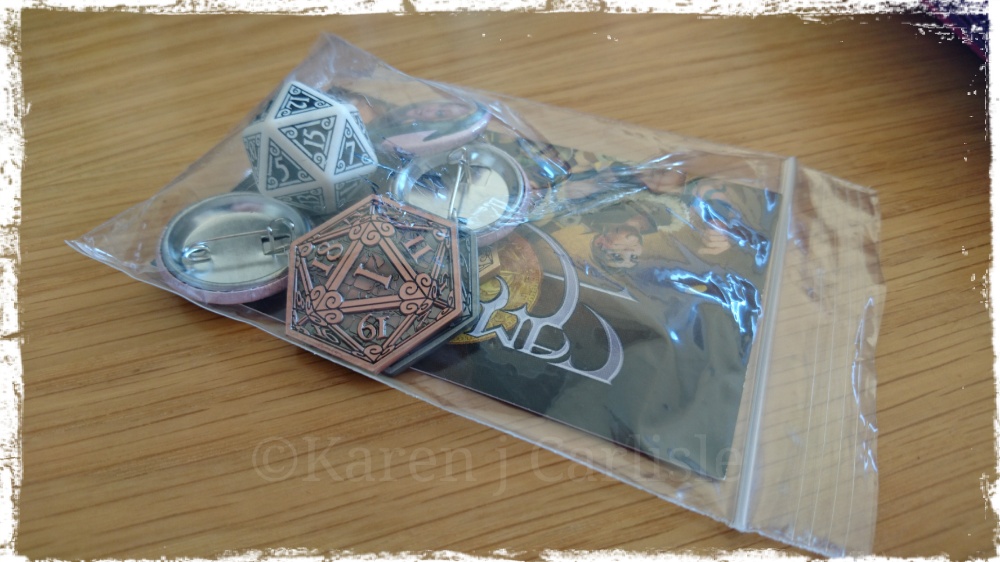 Monday:
After a busy weekend, Red is exhausted (and so am I). I'm battling to stop wheezing, with record fog and smog in Melbourne, and constant burn offs around the city. Red helped me to update my pages.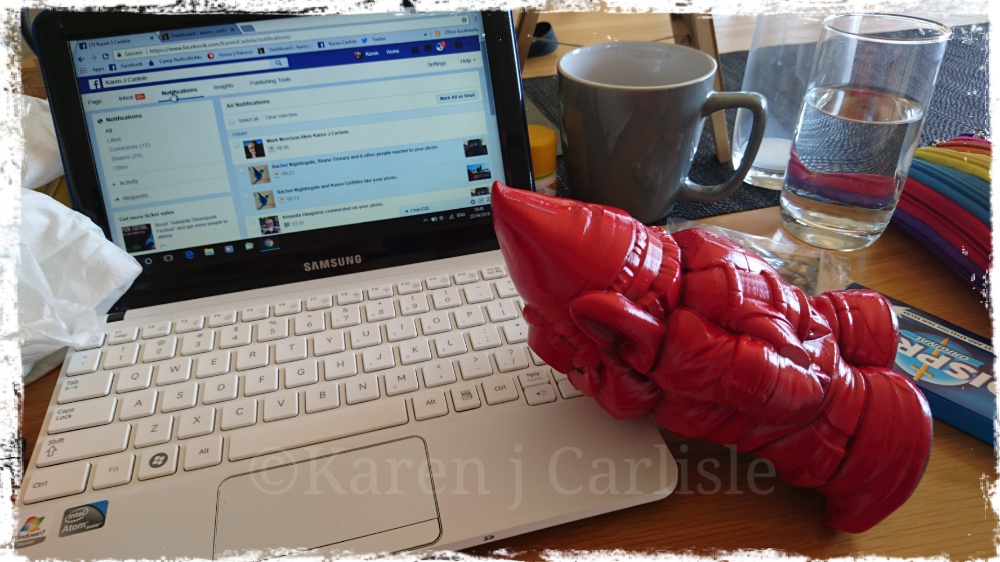 Tuesday:
and we're off home. Time to fill up with petrol.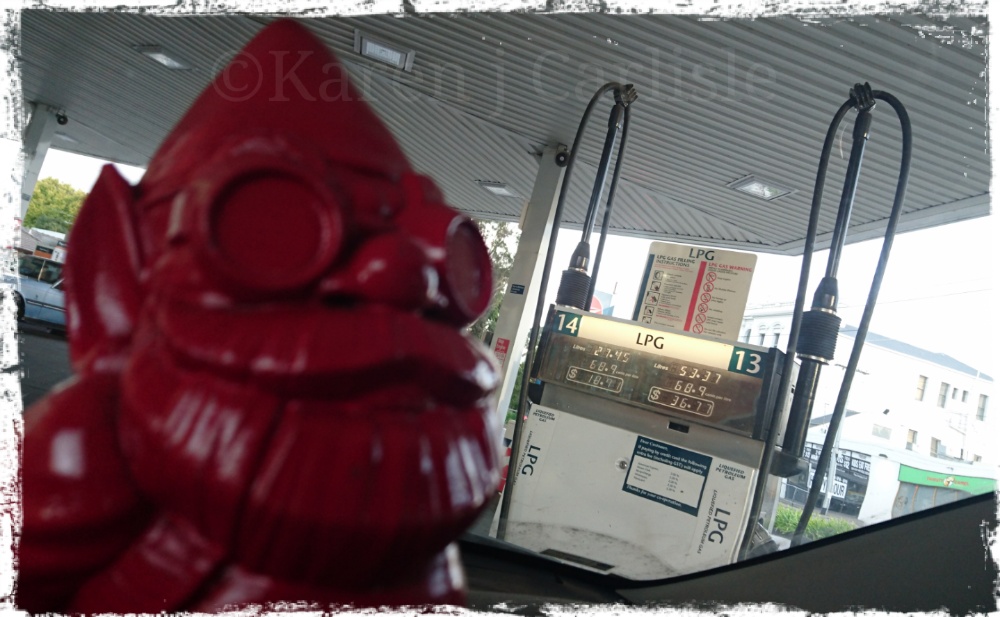 Update: Today
I've been on inhalers, antihistamines and steroids and have narrowly avoided return of the bronchitis after a weekend  of Melbourne air (another reason I live in Adelaide).
As a result, I have moved the Aunt Enid eBook launch sale to start on 21st May and end on 7th June.
Originally published at karen j carlisle. You can comment here or there.
Hello Dear Reader,
My latest post has gone live on my Patreon Page. You can read all about deadlines, interviews and more on 'Aunt Enid: Protector Extraordinaire'.
Originally published at karen j carlisle. You can comment here or there.
Buy your eBook copy of
Viola Stewart's final adventure,
'The Illusioneer'
66% off via Smashwords.
(US $0.99)
USE VOUCHER CODE: KJ68Q
(valid 22-26th April, 2018)

The New Zealand organisers  will be making a donation to the RSA (Returned Serviceman Association) in New Zealand for each book sold during the sale.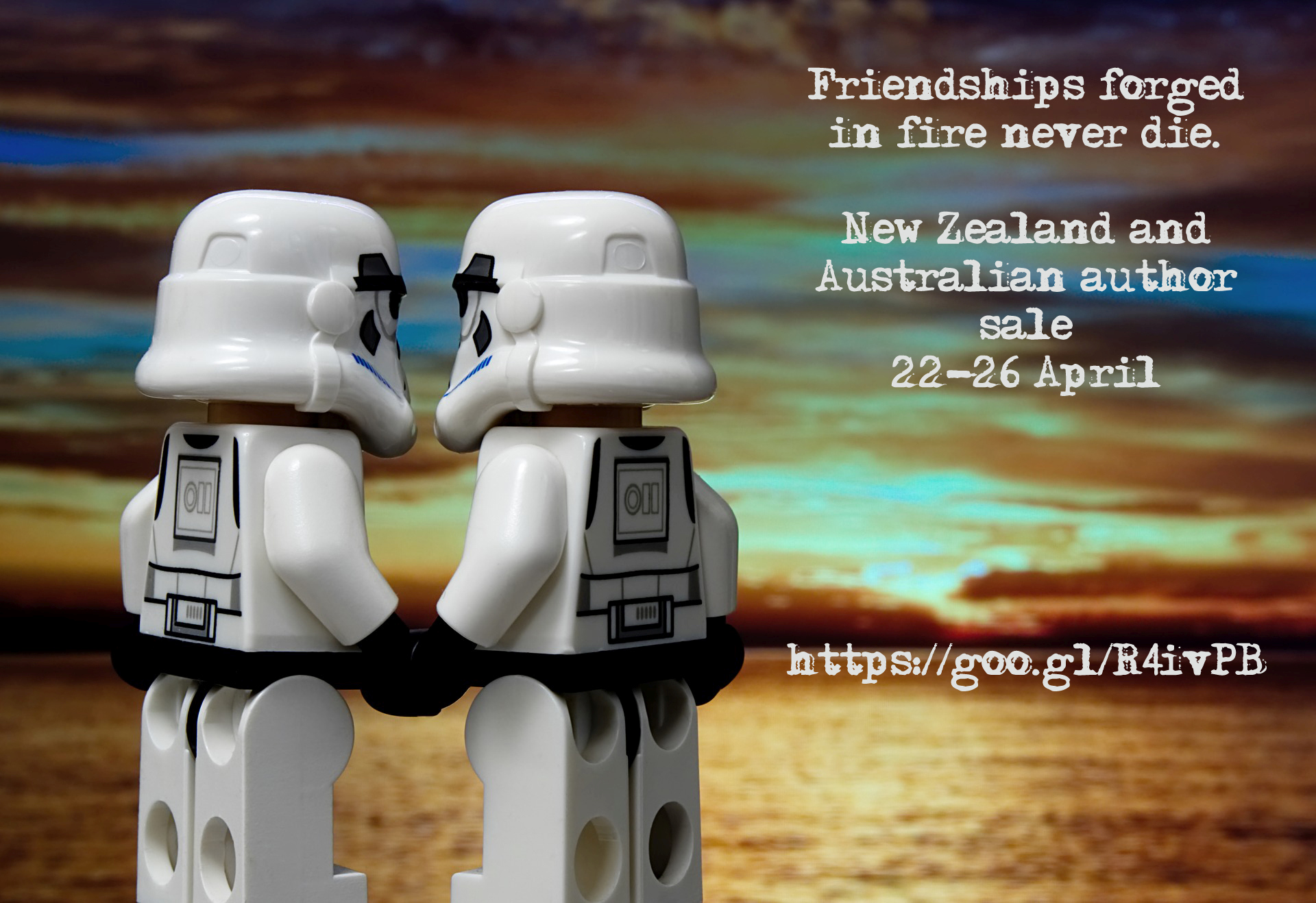 'To commemorate Anzac Day we are running a sale on authors from New Zealand and Australia.  The sale will run from 22 – 26 April 2018.'
For more specials from
New Zealand and Australian authors,
check out the Sale Page.
Originally published at karen j carlisle. You can comment here or there.
If you're attending Melbourne Supanova this year, why not visit me in the Artist Alley (table #48 – you can see me from the Celebrity token purchasing, just beyond the Comic Book Supa-Starsarea!)

This weekend you can buy copies of 'The Adventures of Viola Stewart' series or…
Pre-order your very own copy of 'Aunt Enid: Protector Extraordinaire'. (due out approx 14th May)